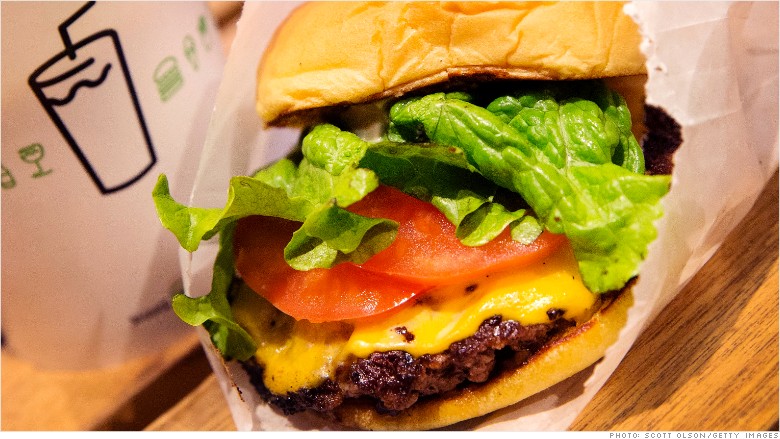 Shake Shack continues to sizzle.
Despite raising prices in September and again in January, Shake Shack (SHAK) saw no shortage of salivating customers between April and June. Sales are up, more Shacks are opening and the company's outlook is rosy.
Another way the company knew the price increases didn't deter fans: Instagram.
Shake Shack CEO Randall Garutti touted that over 7,500 Instagram followers -- a record high -- liked one of the company's recent Instagram posts about its new sandwich: the ChickenShack.
The other yardsticks are just as impressive. Shake Shack's stock jumped up over 7% early Tuesday after it reported sales at restaurants open for at least two years rose almost 13% between April and June compared to a year ago. Overall, its sales soared 96% from the same time last year. By Tuesday afternoon, however, the stock was off 2% along with the rest of the stock market.
Still, Shack Shake's stock is up 250% since it went public in late January with an IPO price of $21.
Shake Shack, the company, is still be in the early stages of a global expansion plan. Garutti and his team said they plan to open about 12 new Shacks per year for the "foreseeable future."
The burger chain opened its third Shake Shack in Moscow this year and its second in the United Kingdom. The company plans to open its first Shake Shack in Japan next year.