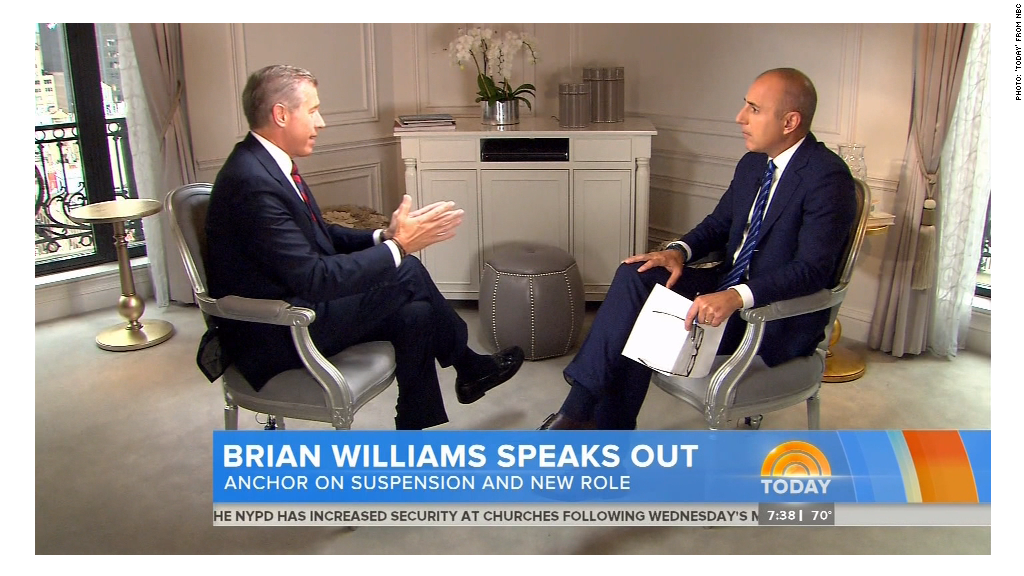 Brian Williams' long, professional nightmare is over.
It's been six months since Williams was suspended without pay by NBC News for telling an exaggerated story about a helicopter mission during the Iraq War. The network confirmed to CNNMoney that the suspension is over.
NBC told CNNMoney on Tuesday that Williams will assume his new role as a breaking news anchor for MSNBC in mid-September, but no date has been set.
The suspension began in February after Williams was forced to recant his claim to have been aboard a helicopter that was struck by a rocket-propelled grenade in 2003. Soon, Williams and NBC faced questions about other suspicious anecdotes he had shared publicly over the years.
Related: Brian Williams investigation: What we know
As the controversy became a media firestorm, the network dealt Williams a six-month, unpaid suspension as anchor of the top-rated "NBC Nightly News."
While Williams was sidelined, NBC conducted an in-house investigation that uncovered at least 10 other embellishments in the anchor's past. Some observers doubted that Williams would ever return to NBC.
Related: Brian Williams is starting an apology tour
But those doubts were extinguished in June when NBC announced that Williams will return to the company in a reduced role as a breaking news anchor on MSNBC, the network's struggling cable news arm.
Lester Holt, Williams' replacement in the "NBC Nightly News" chair, has been given the job permanently.
There are other unanswered questions about Williams' return. Is he back at "30 Rock," NBC's Manhattan headquarters? Does Williams have the same office space? The network wouldn't say.
Related: Lester Holt's on a roll as NBC wins three in a row
Williams has been silent since he finally addressed his professional turmoil during an appearance on NBC's "Today" show in June. In the interview, Williams admitted to saying "things that weren't true," but insisted that he "wasn't trying to mislead people."
"This was clearly ego driven, the desire to better my role in a story I was already in," Williams said.