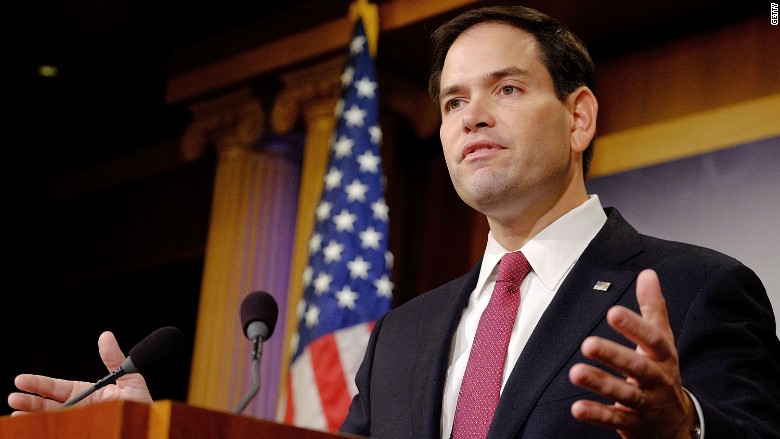 Marco Rubio is clear about his views on Cuba: He calls the Cuban government "immoral" and communist, and he doesn't think Americans should vacation there or do business with the island.
He has an entire section of his presidential campaign website dedicated to Cuba where he calls President Obama's concessions "flat out dangerous."
For Rubio, it's personal. His parents emigrated to the U.S. from Cuba in 1956 (before Fidel Castro came to power), a fact he highlighted in the first Republican debate last week.
But there's one problem for Rubio: big business and an increasing number of major donors don't agree with him on Cuba. That divide could eventually jeopardize his campaign's success.
Nearly three-quarters of Americans approve of U.S. efforts to restart diplomatic relations with Cuba, according to a recent Pew Research poll.
Related: Airbnb opens for business in Cuba
Two-thirds Republicans want to end trade embargo
Even among Republicans, 59% now support ending America's trade embargo with Cuba, according to Pew. Businesses have become especially active in pushing Congress and Republican presidential candidates to change their stances.
"The issue is done," says Kirby Jones of Alamar Associates, which advises companies on how to deal with Cuba. Jones has been to Cuba three times this year alone to accompany business leaders looking to make connections. Executives from JetBlue (JBLU), Pfizer (PFE) and MasterCard (MA) have also made recent trips to the island, and Netflix (NFLX) and Airbnb have already opened up shop there.
"Rubio's name does come up a lot. There's a reason for that," says Jones. "He's one of the few voices on that side. You just don't have very many anymore."
President Obama began normalizing relations with Cuba in December. Since then, the U.S. has taken Cuba off of the official "state sponsors of terror" list, relaxed travel restrictions to the island (to an extent), and reopened an embassy in Cuba for the first time since 1961.
Secretary of State John Kerry will be in Cuba on Friday to raise the American flag at the new U.S. embassy in Havana.
Related: Cuba is finally coming off the U.S. terror list: Corporate America cheers
Businesses push for change
Business are playing a key role in pushing the changes, especially in Republican circles. Many companies want the embargo lifted so they can trade freely with Cuba.
"Since U.S. companies realize trade is at least a medium-term reality, they've been lobbying U.S. representatives increasingly over the past few months," says Lawrence Gutman, a Cuba expert and fellow at the World Policy Institute.
The U.S. Chamber of Commerce, corporate America's largest lobbying group, is actively working on the issue. The Chamber first visited Cuba in 1999 in an effort to draw attention to the business potential. The Chamber wants the embargo repealed.
Companies like Caterpillar (CAT), Colgate-Palmolive (CL) and Chubb (CB) have also been actively lobbying in Washington to remove restrictions. They argue opening trade will encourage democracy and capitalism in Cuba.
Related: Everyone wants to go to Cuba now. Too bad for the rest of the Caribbean
2016 GOP leaders are starting to shift
There are signs that GOP politicians are changing their minds.
"Early on, their initial reflex was to be against something that the president had come out so strongly in favor of doing," says Ric Herrero, executive director of CubaNow and one of the founders of the New Cuba PAC, a non-partisan group that aims to see trade and travel restrictions with Cuba lifted.
Now, "you're seeing support on the Republican side of the aisle grow significantly," says Herrero. He points out that record numbers of business executives are traveling to the island this year, and when they come back, they often call their congressman.
Rubio doesn't seem convinced yet.
"Money flowing into Cuba as a result of Obama's new policies is going straight to their government -- a regime that has actively worked against U.S. interests at every turn," Rubio writes on his campaign website.
Fellow presidential candidate Ted Cruz, whose father was tortured in Cuba and came to the U.S. in 1957, also leaves no question about where he stands. Cruz closed his remarks at the first presidential debate last week by saying, "My father fled Cuba, and I will fight to defend liberty because my family knows what it's like to lose it."
But businesses want the liberty to trade with Cuba, and they will keep pushing the GOP field.
Related: Kerry to make historic trip to Cuba on Aug. 14
Related: 7 things Americans should know about travel to Cuba