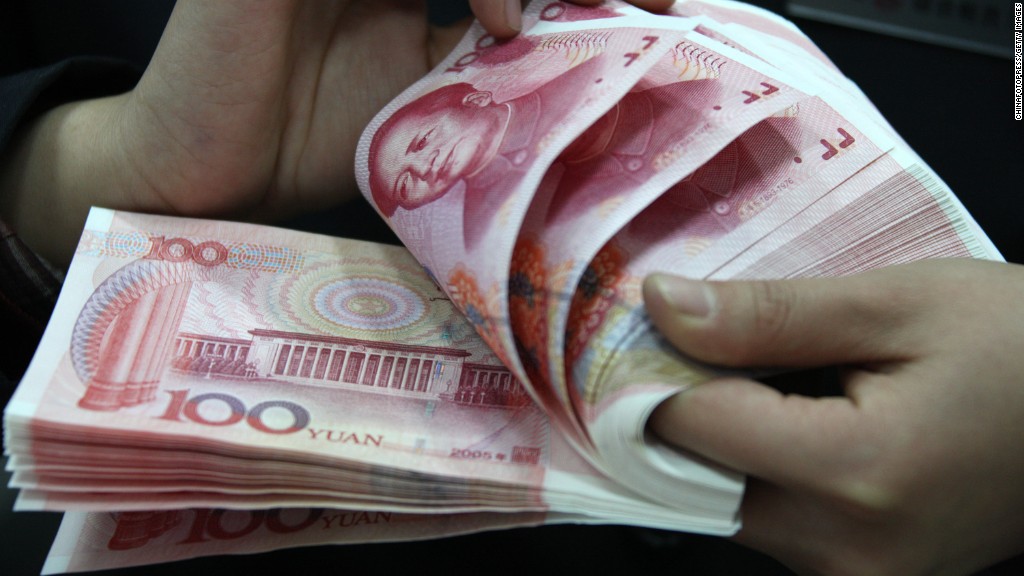 Global stocks sold off sharply Wednesday after China's currency declined for a second day, sending fear through investors.
Currencies and commodities were also under pressure after China's central bank allowed the yuan to drop against the U.S. dollar, sparking its largest two-day decline in decades.
U.S. stock markets fell triple digits also for a second day in a row. By mid morning the Dow Jones industrial average was down 240 points.
Major markets across Asia and Europe also recorded losses of between 1% and 3%.
Related: Yuan declines again as China devalues
The moves come one day after the People's Bank of China shocked markets by changing the way the yuan's daily trading band is calculated. China described the devaluation as one-off market-reform, but many see it as a way to boost exports and provide a lift to its cooling economy.
Companies with heavy exposure to China, including luxury goods makers and automakers, suffered the biggest blows in European trading.
Fashion retailer Burberry (BBRYF) tumbled 3.5% in London, while luxury conglomerate LVMH (LVMHF) plunged 4% in Paris. Mercedes-Benz owner Daimler (DDAIF) sank 3.7% in German trading.
Investors are worried that more devaluations from China could hurt profits. Many Western firms, including Philips, BMW and Volkswagen (VLKAF), have already warned of slowing growth in China.
Miners also tumbled. Glencore (GLCNF) slumped 5.4% and BHP Billiton (BBL) traded down 2.2% in London. China is a big buyer of commodities and the weaker yuan would drive up the cost of raw materials, at a time when demand is already depressed. Prices for commodities like oil and copper have been sliding for months. Nickel was one of the biggest losers Wednesday, dropping 2.2%.
Related: Donald Trump slams Beijing for crashing the yuan
Global currencies also came under pressure. Commodity-tied units which are sensitive to trade with China, including the Australian dollar, lost ground.
And China's latest devaluation inflamed fears of a so-called 'currency war.' The worry is that other countries will also look to drive down exchange rates to make their exports more competitive.
"A deliberate attempt to lower the currency is indeed currency warfare," said Oxford Economics director Gabriel Stein.
It may have already begun: Stein said Vietnam announced a widening of the trading band of the dong on Tuesday.