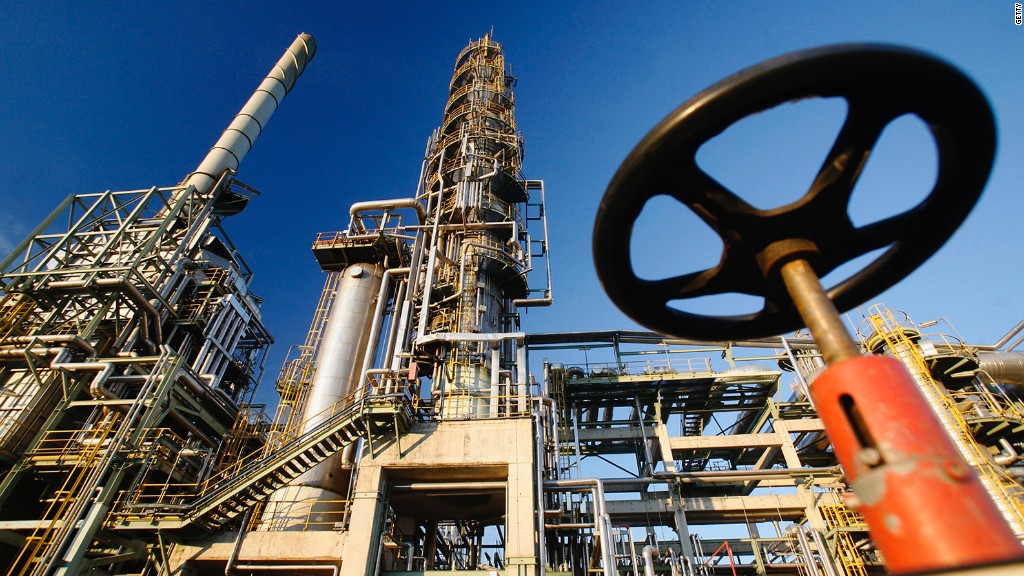 OPEC's strategy to pump like crazy despite collapsing oil prices seems to be finally paying off: The U.S. oil industry is showing cracks.
Oil supply from non-OPEC countries is set to slow dramatically next year and slip into its first contraction since 2008, the International Energy Agency said Wednesday in its monthly oil market report.
And the IEA said the U.S. will be the hardest hit, as more oil producers rethink their priorities and cut production.
"While some producers might be successful in lifting output in the short-run, we expect the majority will struggle to sustain higher rates over longer periods due to steep spending curbs," the report said. The IEA monitors energy market trends for the world's richest nations.
The U.S. drilling activity is already down steeply from the October 2014 peak; 59% fewer rigs were operating at the end of July. Oil hit a six-year low of $43.08 a barrel on Tuesday, dimming hopes for a significant uptick in activity any time soon.
Related: Ouch! Cheap oil is squeezing these countries
OPEC, the 12 nation cartel led by Saudi Arabia, has embarked on a fierce battle over its market share last November. It refused to cut output in the light of lower prices, hoping instead to squeeze its rivals with higher production costs out of the market.
Resilience from the U.S., Russia, and other non-OPEC countries has led to the biggest oil glut in 17 years.
But something had to give. The IEA said oil's second lurch below $50 per barrel has prompted more oil companies to take an ax to production.
Non-OPEC output is forecast to add 1.1 million barrels a day to average 58.1 million barrels a day in 2015, and contract by 200,000 barrels a day in 2016. That compares with record growth of 2.4 million barrels a day in 2014.
Meanwhile, OPEC output might increase further in 2016. Its member Iran is eager to take advantage of the proposed nuclear deal and regain its status as a global energy power.