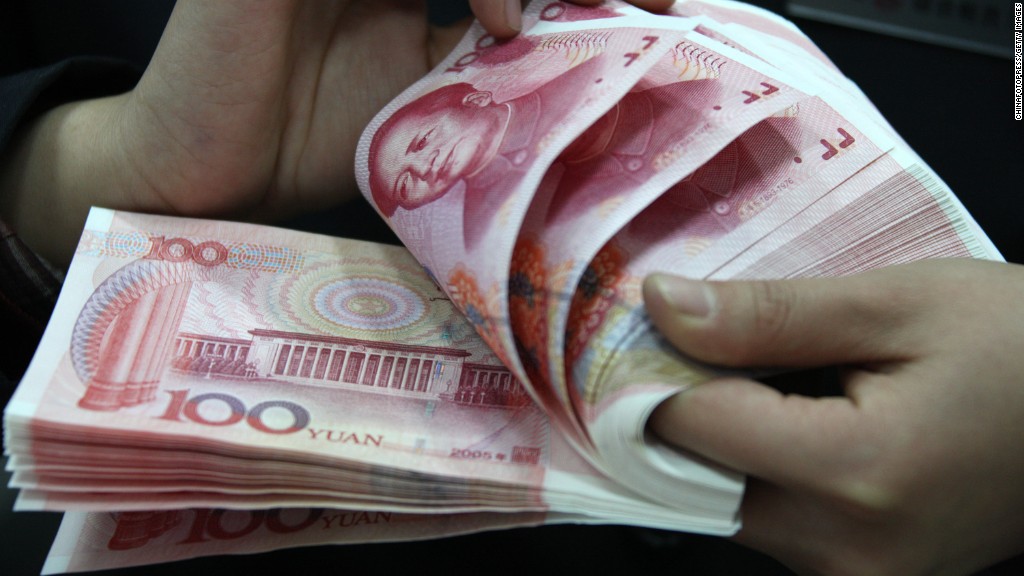 All major global stock markets are sinking right now and U.S. stocks are set to open with significant losses.
Brace yourself, and read this.
These are the four things you need to know before the opening bell rings in New York:
1. That sinking feeling: U.S. stock futures are all declining by about 1% and nearly every major stock market index in Europe and Asia is lower by roughly 1% to 3%.
Investors seem to be reacting to the yuan's slide against the U.S. dollar, which is creating uncertainty about global trade dynamics.
Many other emerging market currencies are declining across Asia, with the Indian rupee down about 1% to a two-year low versus the U.S. dollar.
The CNNMoney Fear & Greed index shows investors are feeling extremely fearful right now.
On Tuesday, the Dow Jones industrial average lost 212 points, closing 1.2% lower. The S&P 500 also dropped 1% and the Nasdaq shed 1.3%.
Related: China's yuan tumbles for a second day
2. Oil at a six-year low: Crude oil futures are trading around a six-year low after posting a big drop Tuesday.
Crude settled at $43.08 per barrel on Tuesday, but the price has since recovered a bit.
The U.S. government is reporting crude oil inventories data at 10:30 a.m. ET, which could move prices again.
Related: This stock is up more than 1,000% in the past 3 days
3. Earnings: Macy's (M) and Alibaba (BABA) are among the companies reporting quarterly earnings before the opening bell.
Cisco (CSCO) and Rupert Murdoch's News Corp (NWS) will report after the close.
4. Stock market mover -- Fossil, Apple: Shares in Fossil (FOSL) were dropping by just over 7% in extended trading as investors react to the latest quarterly figures released on Tuesday afternoon.
Apple (AAPL) shares are also dipping by about 2%.