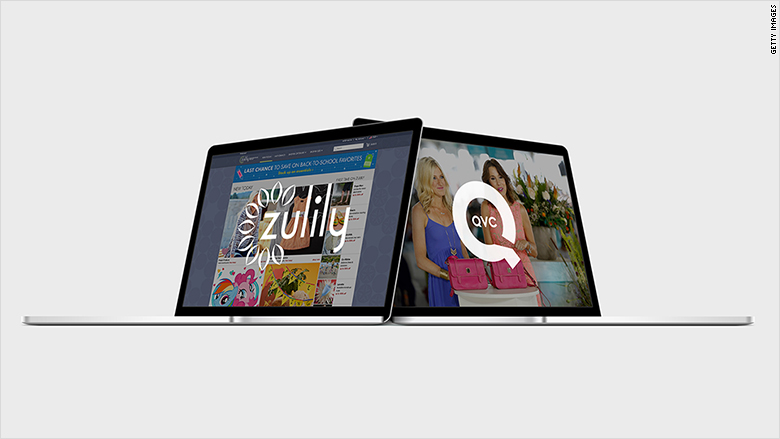 The latest flash sale on Zulily? Itself.
Struggling Internet retailer Zulily (ZU) agreed on Monday to sell itself to the owner of QVC for $2.4 billion. The deal marries a powerhouse TV shopping network brand with one that's in desperate need of a turnaround.
Zulily is known for flash sales that offer customers deep discounts of up to 70% for a limited time. It sells everything from children's clothes and toys to women's apparel and patio furniture.
When it went public in late 2013, Zulily was a hot brand in the red-hot e-commerce scene. It sold shares to the public at $22 a share and the stock briefly skyrocketed above $70 in early 2014.
But the thrill quickly faded. Sales growth went from explosive -- north of 100% in late 2013 -- to just 4% during the second quarter of this year.
Consumers may have soured on Zulily's long delivery times, especially in today's world of speedy shipments from Amazon (AMZN), Walmart (WMT) and other retailers. Zulily's struggles also forced the company to consider reversing its no-returns policy.
Zulily shares plummeted to as low as $9 in early May.
On Monday, Zulily jumped nearly 50% to $18.50 on its acquisition by QVC owner Liberty Interactive (LVNTA). That means investors who jumped on the stock at its initial public offering are staring at a loss.
"Zulily's problem is it's not sticky. Clearly they weren't getting a lot of return business," said Paula Rosenblum, managing partner at retail consultancy RSR Research.
Related: Amazon's culture is 'purposeful Darwinism'
Can QVC work its magic on Zulily?
That's where QVC enters the picture. For the past three decades QVC has built a powerful consumer brand on television and online. QVC is quick to create synergies between its different channels and has built a loyal following of like-minded shoppers.
"This is QVC's core. This is what they do. They create community," said Rosenblum. "If you don't know why you aren't getting repeat customers, you can leverage this community to help you figure out what you're doing wrong."
QVC, in turn, is gaining a younger set of customers. Zulily's core audience are moms in their late 20s to early 40s.
Related: In retail, Amazon wins while everyone else loses
Alibaba is a big winner with deal
QVC and Zulily will operate as separate brands, the parent company said. But there are opportunities to leverage each other's strengths. For example, QVC offers global scale that Zulily could only dream of in the past.
Zulily will remain based in Seattle and led by Darrel Cavens, its current CEO.
One big winner in the QVC/Zulily deal is Alibaba (BABA). The Chinese e-commerce giant is one of Zulily's largest investors and it acquired its stake back when the stock was changing hands at less than $14 a piece.