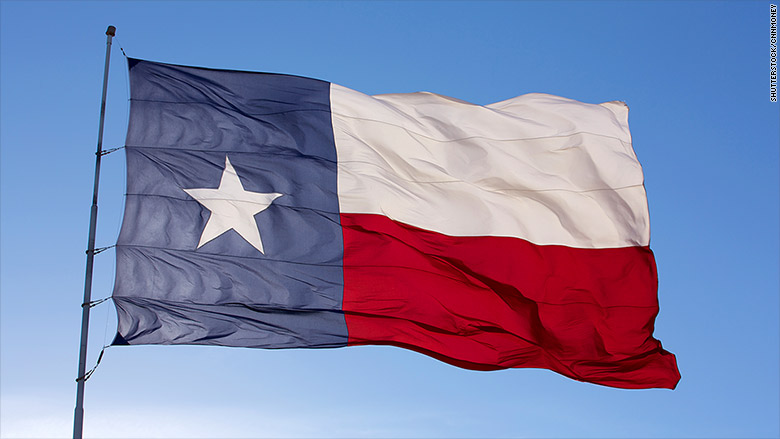 Oil prices can't mess with Texas.
Some economists warned last year that Texas could slide into a recession in 2015 as oil prices tanked.
Last week, prices hit a 6-year low to $42, down from $100 a barrel a year ago.
But Texas added jobs in five of the first six months this year. The state's 4.2% unemployment rate has actually ticked down a little this year, and it's well below the nation's 5.3% rate, according to the Federal Reserve Bank of Dallas.
The dramatic decline in oil prices would have spelled trouble for the Lone Star State, 30 years ago. But this time, it's weathered the storm quite well.
Sure, energy companies in Texas have cut jobs as their profits are shrinking.
Related: Is Texas America's best state economy?
1986: Economy tanked along with oil prices
But it's a much different story for Texas compared to the last oil price bust in 1986.
Back then, when oil prices tanked, so did the state's economy. Its unemployment rate shot up to 9.2% in October of 1986, well above the national unemployment rate, 7%, at the time. Local banks shuttered, and home prices fell.
But this time, Texas' economy has diversified and doesn't depend as much on oil as it did then.
"They're less exposed to oil prices than they used to be," says Robert Mellman, senior economist at JPMorgan (JPM).
27K energy jobs are gone, but teaching and nursing jobs are up
In fairness, it's not all sunny in Texas.
Oil workers have taken a hit. The state has lost about 27,000 energy jobs so far this year. The oil boom in Texas helped boost wage growth in the state.
Like much of the country, wages are growing at a sluggish pace this year. Fueled by robust energy job growth, wages in Texas grew by 3% and 4% in 2013 and 2014 respectively. So far this year, wage growth is flat in Texas.
But there are more jobs in education and health than the number of jobs lost in energy.
Texas has 32,000 more jobs for teachers, nurses and other workers in these two areas this year. There were also more jobs created in tourism and in the state government, according to the Dallas Fed.
Related: Fastest growing cities: Texas is king
Technology, health care and education are Texas' hot spots
Job growth has been slower this year in Texas than in 2014, but that's true for all of the United States. Some economists argue that slower job growth is a sign that the economy is reaching full employment -- or maximum capacity.
And compared to the 1980s, the Texas economy is made up of many more industries.
Since 1990, energy jobs have growth 85%. There have been 157,000 new energy jobs created, which shows that it's an important area for Texas.
However, job growth in Texas' health care and education fields has gone up by 140% over the same time. Likewise, there were only 18,000 tech jobs in Texas in 1990. Now that number is nearly 160,000 jobs, according to the Dallas Fed data.
"The Texas economy is resilient because it's diversified," says Pia Orrenius, senior economist at the Dallas Fed. "We've learned some lessons from past oil busts."