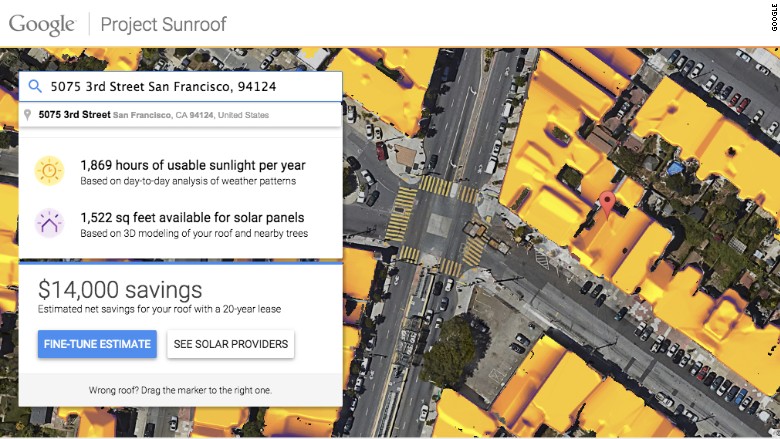 Want solar panels but don't know where to start? Google has created a nifty little tool for determining if your home is a good bet for solar power. It combines Google Maps information about your home, local weather history, and estimates from nearby solar providers.
Project Sunroof was thought up by Google engineer Carl Elkin, who worked on it in his 20% time (Google allows employees to pursue side projects in addition to their regular job). The pilot project is starting small, and only works in three cities for now: Boston, San Francisco, and Fresno ("where one of the engineer's mom is from").
If I were to drop $91 a month to lease solar panels for my San Francisco home, I could save $14,000 over the next 20 years, according to the tool. Annually, I'd save $700, or about one month's rent for a walk-in closet in San Francisco.
According to local weather data, I get 1,856 hours of sunlight every year. That takes into account seasonal changes, the angle of my roof, and potential sun-blockers like a neighbor's house or trees. Using the Google Maps satellite image of my roof, Project Sunroof determined I have 961 square feet of space that can be covered in solar panels.
Google (GOOG) cleverly charges solar providers to list their information below these estimates. If you fill out a contact form at the bottom of the page, the providers you've selected can reach out and try and sell you their goods.