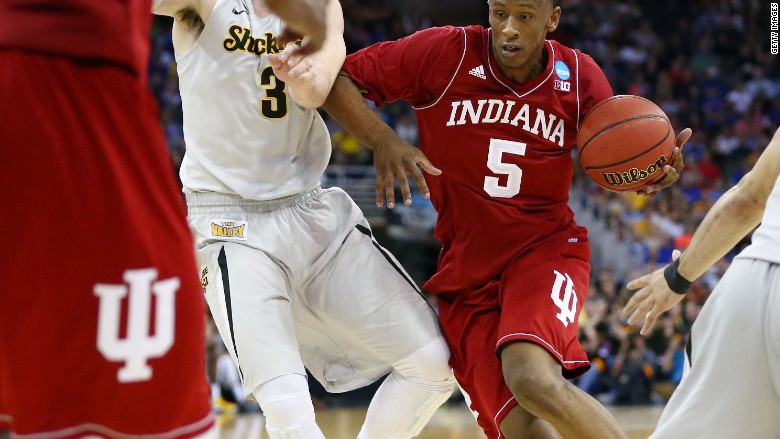 Indiana University just extended its contract with Adidas and got a huge raise in the process, making the apparel deal one of the biggest in all of college athletics.
Adidas will pay the Hoosiers $53.6 million through 2024, or $6.7 million a year, up a whopping 81% from the prior deal it had with Indiana.
Only the University of Michigan and UCLA have bigger deals, according to the Portland Business Journal's database, which tracks athletic contracts at 85 universities.
The University of Michigan signed a new contract with Nike (NKE) worth $169 million, while UCLA reportedly collects $7.5 million annually from Adidas (ADDYY).
Adidas will provide new uniforms each year to the school's football and men's basketball teams and will conduct an audit to ensure that the school's crimson and cream colors are uniform across all 24 varsity athletic teams. The deal also ensures co-branding between IU athletics and Adidas in social media and marketing campaigns.
Related: Adidas lures James Harden (and his beard) from Nike
"We are thrilled to continue our longstanding relationship with Adidas," said IU athletics executive Fred Glass. "Having one of the nation's largest equipment and apparel deals will have an enormous impact on IU, our teams, coaches, and student-athletes."
Adidas said it's also pleased with the partnership.
"Since 2004, we've worked closely with the Hoosiers to bring our best and most innovative footwear, apparel and accessories to all men's and women's sports," said Chris McGuire, senior director of sports marketing at Adidas. "We've enjoyed a successful partnership with Indiana and look forward to continuing to collaborate to help their athletes perform at the highest level."