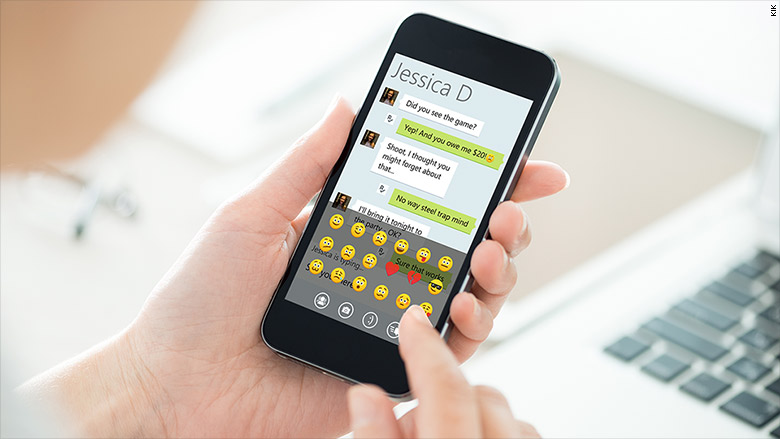 If messaging apps are the future, Kik is positioning itself to take over.
According to a new report from Pew Research Center, 36% of smartphone users use messaging apps such as Kik, WhatsApp or iMessage. Among the younger set, they're even more popular: 49% of smartphone users ages 18 to 29 use these types of apps.
According to Kik Interactive, its app has a significant share of these users. The startup says it has 240 million registered users, the vast majority of whom are in the U.S. and between the ages of 13 and 24. The startup wouldn't disclose active monthly users.
Kik banked $50 million in funding this week, making it the newest "unicorn," (the term for a privately-held company valued at $1 billion or more).
The financing comes from Chinese tech company Tencent, the developer behind WeChat, the Chinese-messaging platform with 600 million monthly active users. It's the firm's first investment in Kik.
Like WeChat, Kik sees itself as more than just a communications platform. WeChat users can also do things like shop, book taxis, order food, pay bills, play games and follow celebrities. Kik eventually wants to integrate services like these into its platform as well.
"The chat app became a magic wand that empowered you to seamlessly interact with the world around you. That has always been our vision. But Tencent had already made it real," said Kik founder Ted Livingston in a Medium post announcing the funding.
Kik Interactive, headquartered in Waterloo, Canada (also home to Blackberry (BBRY)), will use the financing grow its user base, diversify its services and double its employees -- currently at 100.
It's not the only company that sees chat as the future of online services. Japanese-based Line, Snapchat, Facebook (FB)(which acquired WhatsApp for $22 billion) and Telegram are all making similar moves.
"When we met the Tencent team in China, it became clear that we had a shared vision. We agreed that someone would do in the West what WeChat was doing in China. The only question was who. We both believe it could be Kik," he wrote.
Josh Jacobs, president of services at Kik Interactive, told CNNMoney that chat has the potential to eclipse social networking platforms.
"As big as social networking is and as much as it's dominated business press in the past five to six years, messaging is bigger," said Jacobs. "We're heading into the era where chat is going to be one of the dominant areas of innovation and development."