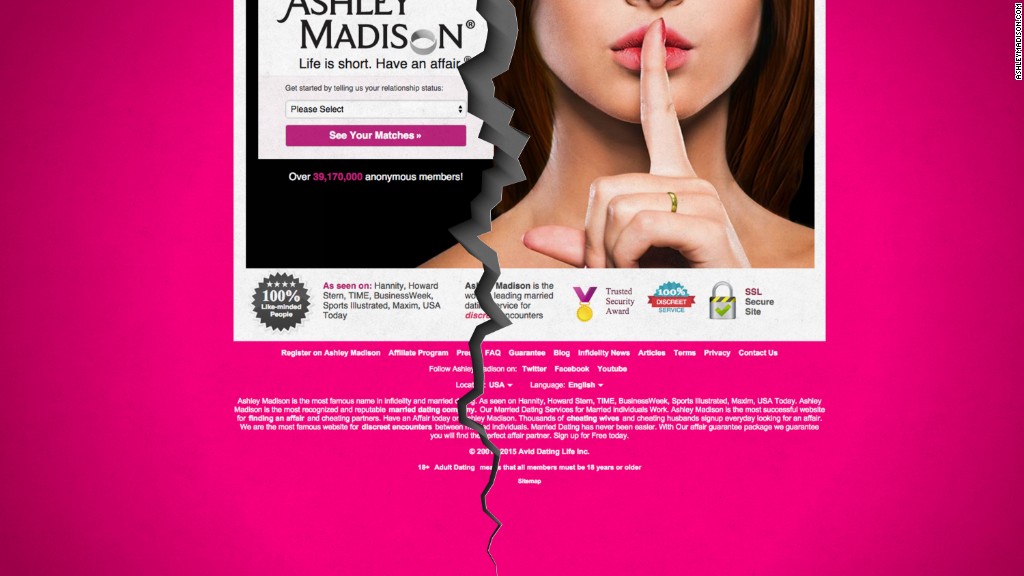 The Ashley Madison hack is indeed ripping apart marriages.
It's exposing affairs, confirming suspicions, and keeping cheaters up at night in cold sweats.
Several people who were directly affected by the data breach of the cheating website AshleyMadison.com have reached out to CNNMoney. Their identities and details have been independently verified, but they have spoken on condition of anonymity.
The mistress
"Ana" is a highly educated business woman in her 40s who is finalizing a divorce with her husband.
She stayed up late Thursday rapidly texting eight married men with whom she had relationships after finding them on Ashley Madison.
She said the men are all worried their wives will use search tools now available online to find the email addresses they used to sign up for the cheating site.
Meanwhile, Ana is concerned about her job in finance. Her clients are couples and small businesses. These are highly personal relationships. If they plug in her email address into any of the available Ashley Madison searches, she'll be exposed. And maybe even fired.
"I would lose business, contracts... I'm not even sure if my contract with my employer has a morality clause," she told CNNMoney on Friday. "It could be very damaging."
Ana claims to have had more than 50 encounters -- everything ranging from "a benign flirtatious lunch" to "three days in a hotel room and ordering room service." To her, Ashley Madison was a playground.
"Honey, I devoured them," she said.
The wife of cheater
"Kimberly" is a neurophysiologist in Richmond, Virginia, who travels a lot on business. She was stuck on a grounded flight Thursday night when she came across a news story about the Ashley Madison hack on her smartphone.
She and her husband had been having marital issues lately, and she figured she'd plug his personal email address into a search tool.
It was a match, and she immediately called him. Here's how she remembers the conversation:
"What do you know about this website, Ashley Madison?" she asked.
"I read a little about how they had a hack," he responded.
"Well, I searched your email, and it came up."
That's when he admitted he was a user on the site, though he kept changing his story.
"I don't know the whole story yet," Kimberly told CNNMoney. "I'm done. Even if it's just him getting on there looking. I don't trust him."
Kimberly is now at her parents' place while her husband packs up his things and finds an apartment.
The soon-to-be divorcee
This week wasn't the first time "Stacy" caught her husband cheating. Back in January, she found his iPad unlocked, opened his photo collection and found pictures of him naked in bed with another woman.
She threw him out of their home and filed divorce papers that afternoon.
They're just now finalizing the divorce settlement. When Stacy heard she could find exposed Ashley Madison users online, she typed in his email address. Surely enough, he was a member.
Stacy hasn't seen his profile. She has no idea whether he actually slept with anyone he found on the dating site. But she thinks the massive hack of stolen documents contains information that will help her divorce.
"It proves his adulterous behavior. It would give me more ability to negotiate what I'm requesting in the settlement," she said.
But that doesn't mean she's happy about what she found out. And her husband's presence on Ashley Madison was still an eyeopener.
"If this would have happened in December, I might have not even searched," she said. "I would have just been in denial. To women who have no suspicions, I say: check anyway. It's sad."