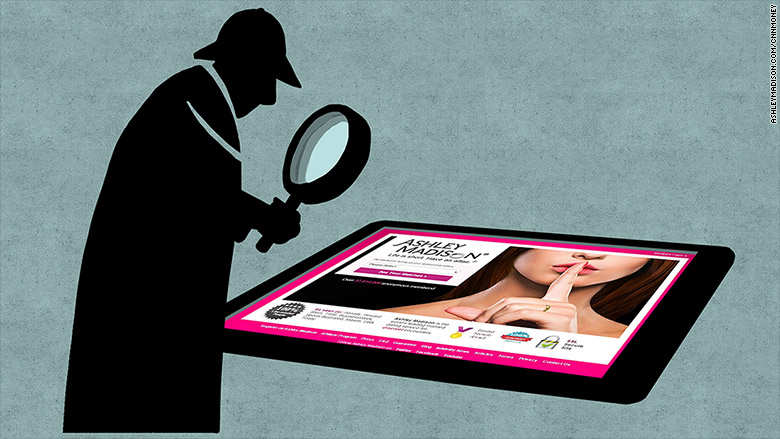 The Ashley Madison data leak has apparently spawned an uptick in requests for private investigators.
A startup called Trustify -- a website for hiring private investigators on-demand -- has seen a major spike in business over the past two days.
On Tuesday, hackers exposed identifying details of 32 million Ashley Madison customers. The site was renowned for connecting people who were actively interested in having affairs.
"We did more revenue yesterday alone than we did in July," founder Danny Boice said on Friday. "And today is tracking to be even bigger."
Trustify, which launched in March, charges users $67 an hour.
Boice said August will be the first month that his company is profitable -- which he attributes to the hack.
His staff was quick to react when hackers posted Ashley Madison's database online. They built a free public tool that lets anyone search the hacked database for specific e-mail addresses. Trustify sent out a tweet announcing the tool, and Boice said since then business has been at an all-time high.
"We're averaging 500 searches per second," said Boice, who hails from Harvard University and sold two tech startups prior to starting Trustify.
While the search feature itself is free, it has helped the startup generate awareness about Trustify in general. In fact, over 2 million people have subscribed to Trustify's e-mail list, said Boice. It was in the low six figures before this week.
Many find the site because of the search tool but then hire Trustify investigator to go deeper into the database for a "full report" on the data leaked.
A "normal" inquiry into a possible cheater takes an estimated four hours, or $268. (Trustify pays its investigators $30 an hour.)
As a result of the boom in business, Boice expects to double his 15-person corporate team by the end of this month, as well as bring on new private investigators. Currently, the company has 3,000 contract investigators.
He said he's also seen a lot of new applications for investigators trickle in this week.
Those seeking Trustify's services fall on both side of the Ashley Madison spectrum: Some are asking if their loved ones were subscribers -- and how much money they spent. ("The amounts -- that's the more damning piece of evidence," Boice said.) Others are Ashley Madison users who want to know what information, if any, was exposed about them.
Trustify doesn't take an ethical position: "We are experts finding the truth ... Whether we agree with the hack or not is irrelevant."