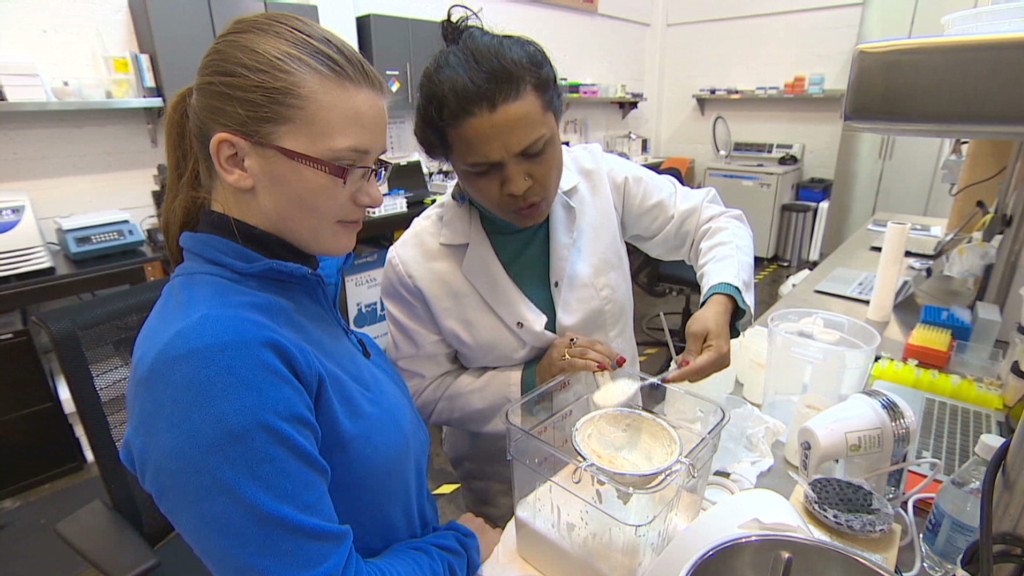 What makes mayonnaise mayonnaise? Is it the white coloring? The thick paste-like consistency? A bland taste that nicely complements a turkey sandwich?
According to the FDA, the answer is: eggs.
The FDA has issued a warning to Hampton Creek Foods for its product "Just Mayo." The food startup cannot call its vegan, egg-free condiment "mayo" when it doesn't contain the key ingredient, said the FDA in a letter from August 12 that was made public Tuesday.
"We don't plan on changing the name," said Hampton Creek CEO Josh Tetrick.
Just Mayo is a mayonnaise substitute made from ingredients like canola oil and pea protein. While the front of the bottle features an illustration of an egg, the label also proudly states that the product is "egg-free."
It is currently sold in large chain stores like Whole Foods (WFM) and Target (TGT) alongside other vegan Hampton Creek products Just Cookies and Just Cookie Dough.
"The use of the term 'mayo' in the product names and the image of an egg may be misleading to consumers because it may lead them to believe that the products are the standardized food, mayonnaise, which must contain eggs," reads the FDA's letter.
Tetrick said he spoke to the FDA earlier Tuesday and the agency is open to sitting down and talking about a solution.
"I feel very good about the thoughtful and honest response we'll give back," said Tetrick.
It's not the first complaint against Hampton Creek for its use of the word "mayo."
In October 2014, Unilever (UL), which owns Hellmann's mayonnaise, filed a lawsuit against the company for false advertising. It abruptly dropped the suit a few months later. In a statement at the time, Unilever said it would instead pursue the issue with "industry groups and appropriate regulatory authorities."
When asked if he thought Unilever was behind the FDA's inquiry into his product, Tetrick said, "I'm sure."
The FDA, the go-to regulatory authority for food, also cites Just Mayo for other issues. It says ingredients such as food starch and and beta-carotene don't conform to the standard definition of mayo. Just Mayo also contains too much fat to make claims about the health benefits of being "cholesterol free," according to the letter.
According to Tetrick, other products don't meet the FDA's definition of mayonnaise but still use the word in their name. For example, mayonnaise dressings that don't contain the required 65% vegetable oil.
The exact origin of mayonnaise is still debated, but it rose to prominence in the 18th century and was likely created in France or Spain. The most basic building blocks for the recipe are egg yolks and oil.