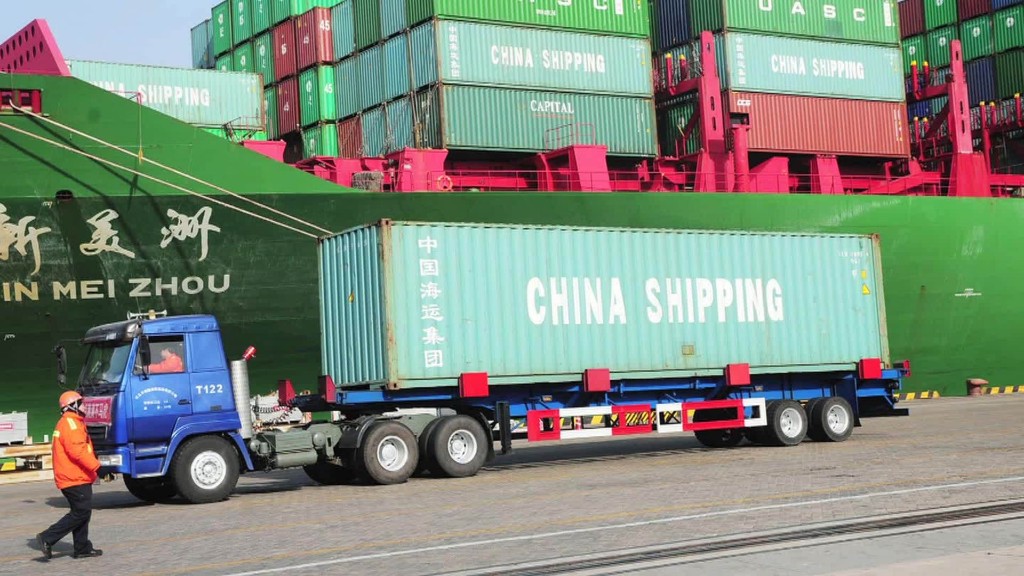 Beijing has a big problem. And that's a big problem for the rest of us too.
The world's second largest economy is slowing down, many fear, much faster than the Chinese government is admitting.
What's worrisome is the breadth of countries, companies and people that are affected by a China slowdown.
Economic growth is drying up in Latin America. European companies are bracing for a sales dive. Smaller Asian economies are watching their currencies plummet. Even U.S. companies that have little exposure to China are getting hit. And people are losing jobs.
Countries that are dependent on China
China is the biggest market for goods produced by some nations.
Consider Chile, which has had a strong economy in recent years. Almost 25% of Chile's exports go to China.
Trade makes up 10% of Chile's economy-- twice that of the United States, according to the World Bank. So countries like Chile that (1) rely heavily on trade for economic growth and (2) trade a lot with China -- namely Brazil, Indonesia, Japan -- have direct exposure to China's economic decline.
With the Chinese buying fewer goods or commodities, it's dragging down those countries' economies and commodity prices.
Chile's economy is projected to grow only 1.8% this year, according to BofA Merrill Lynch. Between 2010 to 2013, it grew over 4% annually.
The point is that Chile's economy is a microcosm of what's happening in many countries across the globe. Less trade with China translates into weaker economic growth.
Related: China needs to open up about its economy
Global companies can't hide from China's slowdown
Just about everyone with any connection to China is getting hit. Car companies like Ford (F), BMW (BAMXF) and Volkswagen (VLKAF) are seeing sales in China fall. Luxury brands such as Prada (PRDSF) and Coach (COH) have seen profits from China decline.
Australian steel company Bluescope Steel warned this week that it would close one of its plants because of worries about Chinese demand combined with low prices. The closure would lead to about 5,000 job losses.
Even U.S. tech giants Apple (AAPL) and Microsoft (MSFT) are affected.
Apple's sales in China are way up from a year ago, but its revenues from China dipped between the company's second and third quarter this year. Microsoft too has experienced a China-related sales slowdown too. The strong U.S. dollar isn't helping these companies sell their stuff abroad either.
Overall the U.S. economy is less exposed to China compared to the countries. Only 2% of S&P 500 revenues are directly linked to China, according to Goldman Sachs.
But that understates the problem. Keep in mind: 44% of revenues for S&P 500 companies come from outside the U.S. So while direct sales to China are a small piece of the pie, sales to other countries are huge and they are already impacted by the ripple effect from China's economy.
Related: China acts to boost economy after stocks crash
The China domino effect and John Deere
It gets worse. Even companies that don't have much direct exposure to China are affected.
For example, look at a stalwart American company from the heartland: Farming equipment manufacturer John Deere (DE). Most of Deere's sales are in North America, but 40% of its sales come from overseas.
Deere's sales in China are down "moderately," but its sales in South America are projected to be down as much as 25% this year, according to the company. Much of the drop in South American sales can be linked to China, experts say.
Related: China's stock market crash...in 2 minutes
How does the domino effect work from China to John Deere:
1. China imports lots of agricultural commodities. China's slowdown has caused commodity prices to plummet.
2. South America is a major exporter of commodities that require farming equipment -- soybeans, sugar and coffee. Countries like Brazil send lots of their commodities to China.
3. With lower commodity prices, farmers don't really have much money to spend on Deere equipment. "Farmers will make less money and will have less [cash] to spend on farm machinery," says Brett Wong, senior research analyst at Piper Jaffray.
Related: Turnaround Tuesday: stocks bounce back
Deere problems exemplify China's domino effect, which may be the global economy's biggest problem right now.