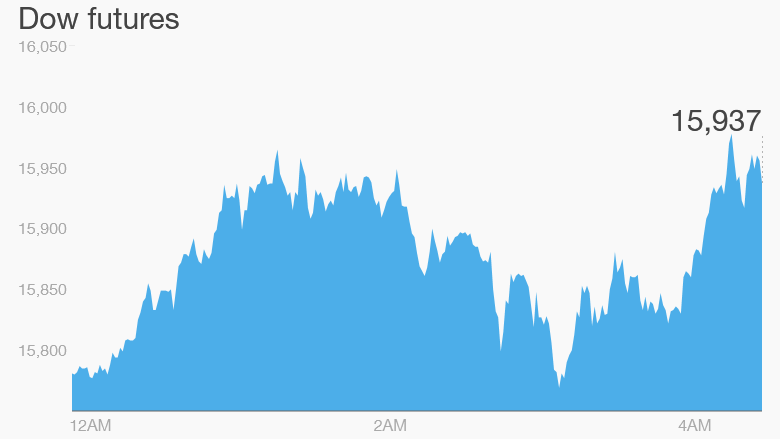 World markets are falling again. Prepare for another bumpy ride.
Chinese stocks bounced around Wednesday before ending weaker for the fifth day running. Stock futures are signaling that U.S. markets should open with a gain of about one percent, but Europe is firmly in the red.
Here are the five things you need to know before the opening bell rings in New York:
1. China drops again: China announced a new round of measures designed to boost the economy late Tuesday, cutting interest rates and allowing banks to lend more. But the bold move failed to prevent further losses. Shanghai Composite closed 1.3% down Wednesday, while the Shenzen Composite lost 3%.
The central bank also said after the market close that it would lend commercial banks about $22 billion to boost liquidity in the short term in its first such move since February.
2. Stock market movers -- Harley-Davidson, Apple, Bank of America: Harley-Davidson (HOG) was one of the biggest gainers in after-hours trading, adding 3%. Transocean (RIG) wasn't so lucky. Its stock price tumbled more than 10%. PNC Financial (PNC) also dipped more than 5%.
A handful of stocks are gaining in premarket trading. Netflix (NFLX) is up 3.6% and Bank of America (BAC) gained 2% early on Wednesday.
Apple (AAPL), one of the most heavily traded stocks during this week's gut-churning turmoil, is up 2% premarket.
3. Earnings and economics: Earnings reports from Abercrombie & Fitch (ANF), Express (EXPR) and Frontline (FRO) are expected ahead of the opening bell.
After the market closes, another crop of companies including Williams-Sonoma (WSM) and Guess (GES) will report.
A report from the U.S. government on orders placed with U.S. manufacturers is expected at 8:30 a.m. ET. Analysts look to that report to gauge private sector activity and business spending.
More gloomy data came from the World Trade Monitor, which reported the biggest fall in trade in the first half of the year since the global financial crisis.
4. International markets overview: European markets are down again in early trading.
The FTSE 100 in London tumbled 1.5% after the opening bell, while Germany's DAX lost 1.3%, and continues to flirt with bear market territory. Several world markets are now trading more than 20% below their most recent peak.
Asian markets ended the session mixed. China and Hong Kong closed lower, while Japan's Nikkei gained 3.2% and Korea's Kospi 2.6%.
5. Tuesday market recap: Markets rallied briefly after the Chinese interest rates cut, but collapsed back into negative territory towards the end of the trading.
The roller coaster ride ended with the Dow Jones industrial average tumbling another 1.3%, losing 205 points, while the S&P 500 dropped 1.4% and the Nasdaq fell 0.4%.