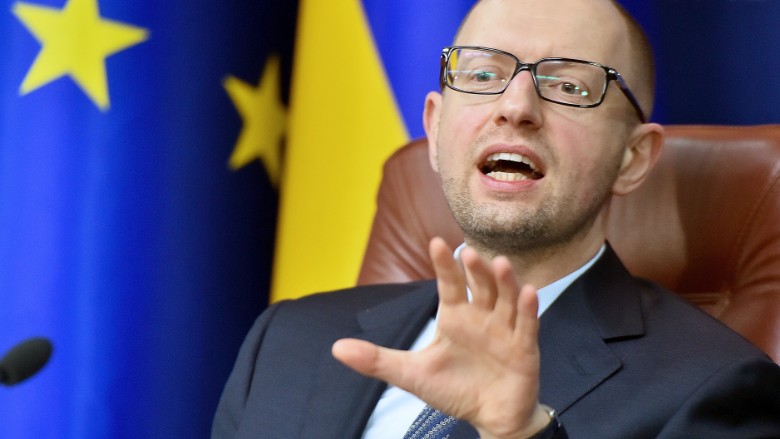 Western investors have thrown Ukraine a financial lifeline by agreeing to write off debt worth $3.6 billion and delay bond repayments for four years.
Prime Minister Arseniy Yatsenyuk announced the deal during a government meeting broadcast live on national television.
The restructuring applies to about $18 billion worth of bonds. It means Ukraine will avoid a costly default.
A haircut of 20% will be applied to debt covered by the agreement, yielding relief of about $3.6 billion, the finance ministry said in a statement.
That could rise to $3.8 billion if bonds issued by the city of Kiev, and some other international loans, are restructured along the same lines. The deal will postpone payments worth $11.5 billion due by 2018.
Ukraine's economy was brought to the brink of collapse by the turmoil triggered by Russia's annexation of Crimea in early 2014, and a wider conflict with separatist rebels in the east of the country.
Its Western allies crafted a rescue in February: The International Monetary Fund agreed to lend Ukraine $17.5 billion over four years, while the European Union and United States also pledged substantial financial assistance.
Related: George Soros: I may invest $1 billion in Ukraine
The IMF has so far disbursed almost $7 billion. In return, the Ukraine government has been pressing ahead with reforms to its economy.
The deal with commercial creditors should help keep Ukraine's IMF bailout on track, and buy it time to recover from war, recession and corruption.
"With this fresh start.... we feel good that we will be able to return to growth next year," Finance Minister Natalie Jaresko told reporters.
Creditors were represented in the talks by investment firms Franklin Templeton, T Rowe Price, BTG Pactual and TCW.
Together, the fund managers own between 25% and 75% of 13 bonds covered by the restructuring.
The other bond, worth $3 billion and falling due in December, is held by Russia. Moscow was reported to have rejected the terms on offer, and a dispute looms.
"The Ukrainian government officially says Russia will never receive better conditions than other creditors," Yatsenyuk said. "It should take our conditions because it will receive no better."
In exchange for providing immediate debt relief, creditors will receive a slightly higher rate of interest once Ukraine resumes payments in 2019.
They'll also have a chance to recover some of their losses via a new arrangement that will pay out starting in 2021 if Ukraine delivers annual economic growth of more than 3%.