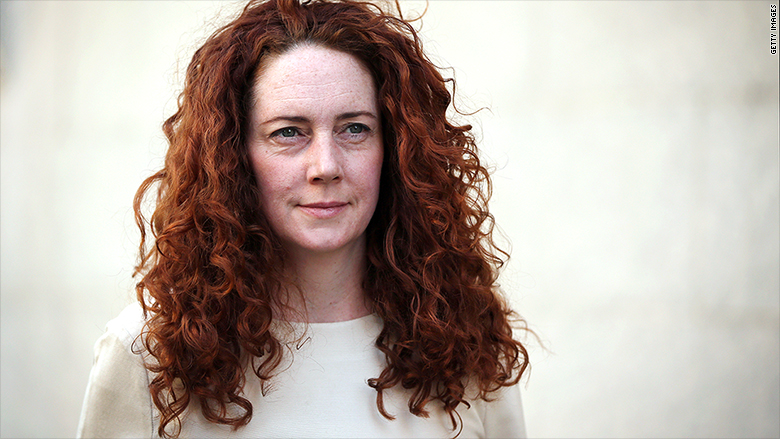 Rebekah Brooks may have a second act at News Corp.
A spokesperson for News Corp. confirmed Friday that it has been in talks with Brooks, who was cleared of all charges last year in a phone hacking scandal that had threatened to derail her career.
"As we've said before we have been having discussions with Rebekah Brooks and when we have any announcement to make we will let you know," a News Corp (NWS). spokesperson told CNNMoney in an email.
The Financial Times reported on Friday that Brooks, 47, will return to News Corp. as the chief executive of its UK division, possibly as early as September. The spokesperson did not specify what the company's discussions with Brooks entail.
It would be a homecoming for Brooks, who became a central figure in the illegal hacking scandal that eventually led to the demise of the News of the World, the popular British tabloid that had been a part of Rupert Murdoch's vast media portfolio.
Related: Murdoch settles phone hacking claim with Hugh Grant, others
Brooks was editor of the News of the World in 2002 when journalists there hacked the phone of missing teenager Milly Dowler, creating false hope that the youngster was still alive. Dowler had actually been murdered.
The scandal mushroomed as reports emerged that the News of the World had hacked the phones of many people it was reporting on, including members of the royal family.
Brooks went on to edit The Sun, another Murdoch paper, and eventually became CEO of the paper's parent company, News International.
Related: Former News Corp execs charged with bribery
She resigned from her job as CEO of News International in 2011 as the hacking scandal generated a public uproar . A week later, she was arrested in connection with phone hacking and police bribery. But after an eight month trial, Brooks was cleared of all charges in June 2014.
But the scandal and subsequent trial subjected Brooks to the type of tabloid scrutiny she usually focused on others. It was revealed that she had had a years-long affair with fellow News Corp. editor Andy Coulson, who had gone on to be the director of communications for Britain's Prime Minister David Cameron. During the trial an unsent love letter found on Brooks' computer was entered as evidence and splashed across newspaper pages.
Brooks was exonerated of any crime, but Coulson was convicted of conspiracy to illegally access emails and spent 18 months in prison.