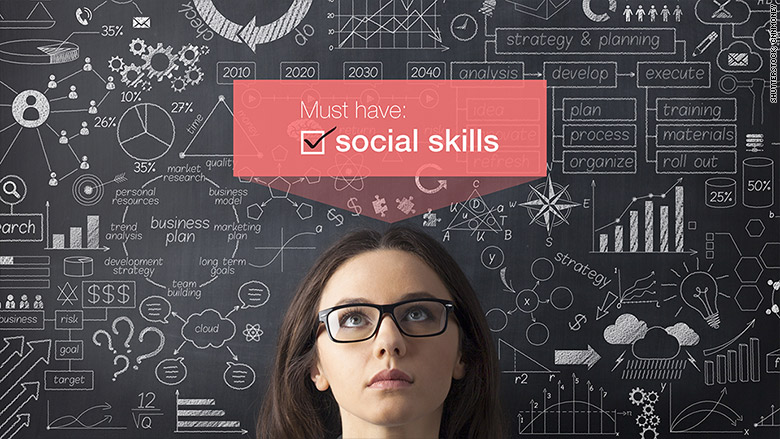 People can meet the love of their lives just about anywhere. The same is true for landing a job.
Joshua Wolfe's break came at the soda machine. Wolfe was getting a drink refill at a restaurant when he recognized the company logo on the shirt of the man standing next to him.
"How's the wonderful world of rent-to-own?" Wolfe, who lives in Oklahoma, asked the man.
That simple question led to about a half-hour conversation and an invite for a formal job interview a few days later. It turns out that the other man at the soda machine was a regional manager for Aaron's, a rent-to-own furniture and appliance company.
Wolfe started as a customer accounts manager at Aaron's a few weeks later at the end of 2014.
"My advice is always: never stop looking," Wolfe, who's in his late 20s, told CNNMoney.
Related: Unemployment at lowest level in 7 years
What made Wolfe stand out was his personality. His experience is relevant. New research from Harvard University says social skills are the top factor for getting -- and keeping -- a job now.
Robots and computers can do more and more sophisticated tasks, but they still struggle with basic human interactions.
Employers are looking for people "to work within a team and communicate" says David Deming, a professor at the Harvard Graduate School of Education and author of the research paper "The Growing Importance of Social Skills in the Labor Market."
Employers are even willing to pay more for people with good social skills, according to the data.
Deming found that across the board -- from executive positions to the most menial jobs -- that people with better social skills tended to earn more. It makes sense given that nearly all job growth since 1980 has been in occupations that are heavier on the social skills.
Women may be especially well positioned to benefit from this trend that has been going on since the 1980s to shift toward jobs that require better social skills. Women traditionally rate higher than men on communication.
That's not to say that technical skills aren't useful. There's a national push in the United States for more young people to get involved in "STEM" -- science, technology, engineering and mathematics -- fields. But success takes more than that.
"It's not that cognitive skills and the ability to do math are unimportant, it's that those aren't enough," says Deming.
Deming's advice to job seekers: "Think about choosing fields where you're not likely to be replaced by a machine...chose fields where you interact with people." Also seek out ways to participate in teams or groups as much as possible.
For Wolfe of Oklahoma, good communication skills were stressed heavily in his home. His father taught speech and interpersonal communication for many years, and Wolfe is studying for a bachelor's degree in psychology.
Wolfe was reminded just how crucial those skills are in the job market again this summer. He recently left his job at Aaron's because he landed a full-time position as an administrative assistant with better hours at Rose State College, the community college where he got his associate's degree.
"For this position, the networking was crucial," said Wolfe.