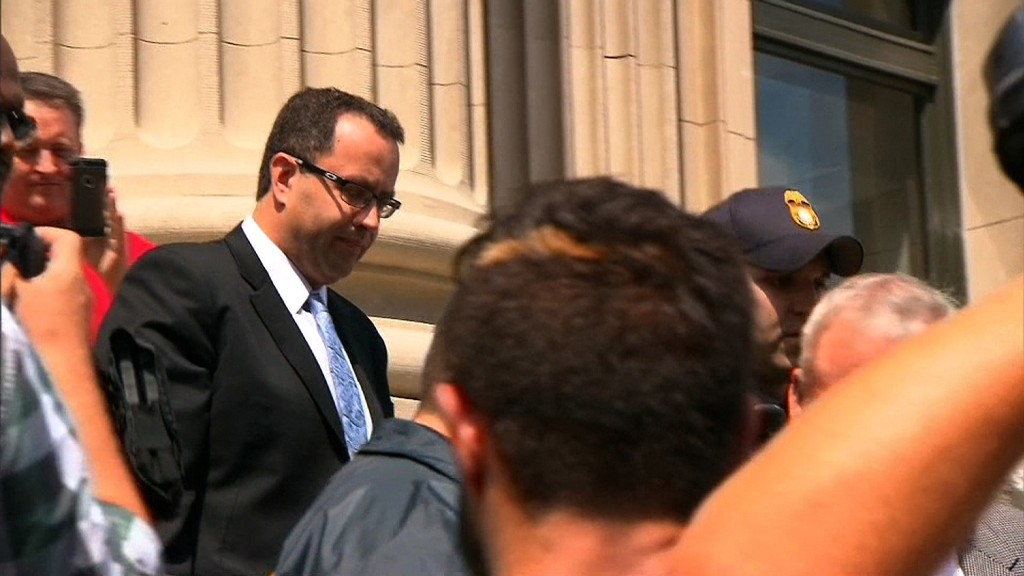 Jared Fogle is back in court with a lawsuit of his own this time.
The former Subway pitchman, who agreed to plead guilty last month to charges of child pornography and having sex with minors, is suing his co-conspirator for an unpaid home loan.
Fogle alleges that Russell Taylor, the former executive director of his charity, the Jared Foundation, owes him $184,400.
According to earlier documents outlining Fogle's plea deal, the home at issue was used by Taylor to secretly film child pornography. The charges against Fogle were prompted by an initial investigation into Taylor.
Related: Jared Fogle's charity raised $650,000, but gave just $146,000.
Fogle's suit against Taylor alleges that the home was purchased using the loan and that Taylor has defaulted on the $850 monthly payments since May.
Taylor agreed Tuesday to plead guilty to federal child exploitation and child pornography charges, according to the U.S. Attorney's office in Indiana. He admitted to using hidden cameras in his home to produce the child pornography He faces between 15 and 35 years in prison on the charges.
Taylor was arrested on May 6 but transferred the home to his wife, Angela Taylor, who is also named in the suit. The home is listed for sale for $187,000, the suit says.
The suit was brought against Taylor last week in the Marion County Superior Court in Indianapolis.
Lawyers for Fogle did not respond to requests for comment.