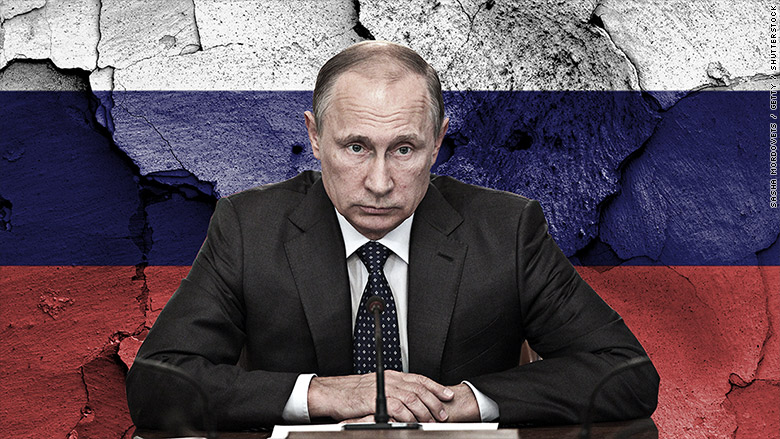 Russian oil producers are getting squeezed.
Russia's deputy prime minister Arkady Dvorkovich said low prices have caused reduction in investment and could soon lead to decline in output.
"It's quite possible that if oil prices remain at the low levels for long, oil production could decline, as had been the case before," Dvorkovich told journalists in Moscow, according to Russia's state news agency.
Russia has been hit hard by the oil market turmoil and Western sanctions imposed on Moscow over its role in Ukraine's crisis. It is now experiencing the worst economic downturn in years -- the economy is expected to shrink by 3.4% this year. Around half of Russian government revenue comes from the oil and gas industry.
Related: Russia is facing a fuel shortage
The turmoil in oil prices has forced Russia to shift to annual budgets, from its current three-year financial planning strategy, the Kremlin announced Tuesday.
The government is now pushing for more support abroad. Vladimir Putin will meet with Venezuelan president Nicolas Maduro later this week to discuss steps the two countries could take to stabilize oil prices. The two are also calling for a meeting with OPEC -- the 12 nation group that dominates the global oil market.
Related: How badly have sanctions hit Russia?
OPEC has been under pressure to cut production to ease the pressure on oil prices. But the Saudi-led cartel decided to defend its market share instead. It has been pumping record amounts of oil, hoping to squeeze other producers who can't keep up with the pace at prices this low.
The strategy is working -- oil prices have collapsed from well above $100 per barrel last year to a current $46 per barrel, and many major producers are suffering. Some U.S. shale producers have been forced to scale back their operations, and even Canada slid into its first recession in six years.
But Dvorkovich said Russia would not deliberately cut production just to help balance out the oil market. He said that unlike OPEC countries, Russia doesn't have the technology that would allow it to cut and restart production easily.