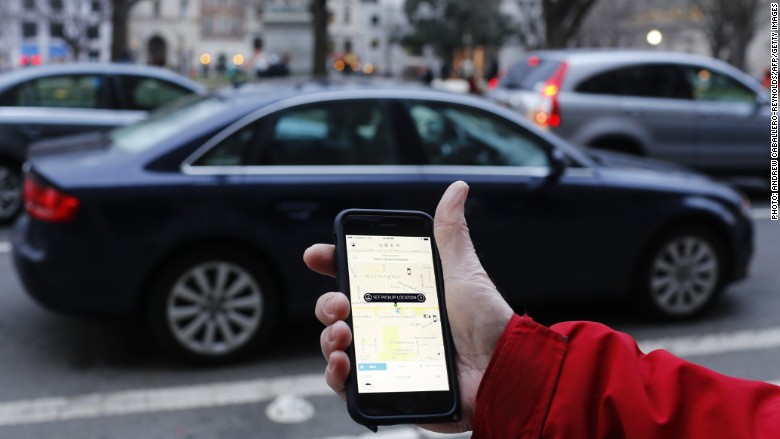 Former Uber drivers in California have been granted class action status in a case that could have major implications for the ride-hailing company.
On Tuesday, U.S. District Judge Edward Chen said former Uber drivers could join the class and sue Uber as a group.
The drivers suing Uber claim they were employees, not independent contractors, and that Uber misclassified them. As employees, they say they were entitled to benefits such as reimbursements for gas. They also allege that Uber took part of their tips, since gratuity is built into the price of each ride.
Uber says its drivers aren't employees because they have full control over their schedules. It also says most drivers don't want to be classified as employees, and prefer the flexibility that Uber provides.
Three drivers initially brought the suit against in 2013. Tuesday's ruling means that former UberX and UberBLACK drivers in California can now join the suit. The drivers must have worked for the company between August 2009 and June 2014. The class does not include drivers who worked for the company after June 2014 and are subject to Uber's 2014 arbitration clause. It also does not include current Uber drivers, who, at this point, will need to make individual claims.
The court granted class action certification for the misclassification and tips claims. It denied certification for reimbursement claims.
Of the 160,000 drivers who have worked for Uber in California, only 15,000 qualify as part of the class, according to Uber. Before 2014, most Uber cars in the state were UberBLACK, and the drivers primarily worked for third-party limo companies. Of the drivers who signed up after 2014, only a few hundred opted out of the arbitration clause and can take part in the suit, Uber said in a blog post.
"While we are not surprised by this court's ruling, we are pleased that it has decided to certify only a tiny fraction of the class that the plaintiffs were seeking," Uber said in a statement. "That said, we'll most likely appeal the decision, as partners use Uber on their own terms, and there really is no typical driver -- the key question at issue."
Uber submitted 400 declarations of support from drivers to prove that they preferred the current system. The court was not swayed by these pro-Uber drivers. It said they only accounted for .25% of Uber's total number of drivers, and only 140 of them said they preferred to remain independent contractors. The court reviewed the declarations and found that "most if not all" of those people were mistakenly under the impression that becoming an employee would put an end to their flexibility.
The outcome of this case could impact other "sharing economy" companies that rely on contract labor. If Uber is forced to reclassify workers, it could end up paying much more to cover benefits and other costs that come with employees.
"This decision is a major victory for Uber drivers. It will allow thousands of Uber drivers to participate in this case to challenge their misclassification as independent contractors," Shannon Liss-Riordan, the lawyer who represents the Uber drivers, said in a statement.