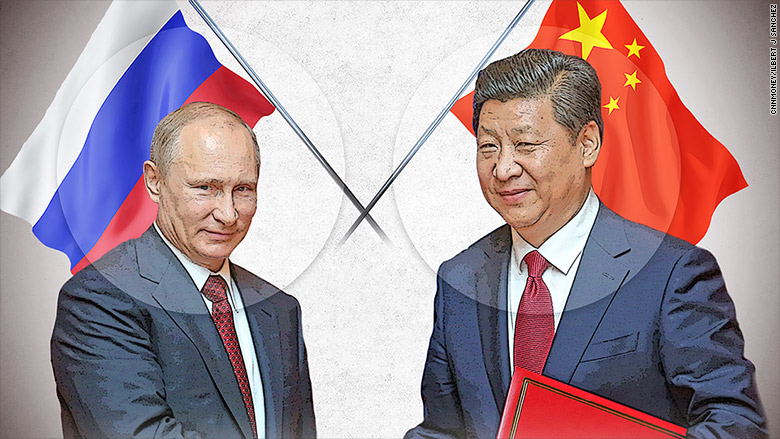 It's like China took Russia on a date and then never called again.
Moscow turned to its powerful Asian neighbor last year after being hit with sanctions by the West. But the plan for a deeper economic relationship is not working out.
China's slowdown is making it harder for Beijing to deliver on promises it made to Moscow, and Chinese investors are spooked by Russia's deep economic crisis.
Vladimir Putin is now hoping to give the relationship a second chance. The Russian president is in China this week, accompanied by an entourage of senior officials and business leaders.
He faces an uphill task, and here's why:
1. Trade is down
Putin boasted last year that Russia's trade with China would exceed $100 billion in 2015, up from $95 billion in 2014. Longer term, the goal was for $200 billion.
But instead of the promised boost, the value of trade between the two countries has nosedived.
"China's exports to Russia have fallen because of the slump in domestic demand in Russia, which is now in a deep recession," said Liza Ermolenko at Capital Economics.
Official data show trade has fallen by almost a third so far this year. That's the biggest decline among all of China's trading partners. Trade was worth $31 billion in the first half of 2015, a long way off the ambitious target.
Related: Russia's slump pushes 3 million into poverty
2. Investment is falling
Chinese direct investment in Russia is also suffering. It fell 25% in the first half of 2015, China's ministry of commerce said in July. Yet in the same period, China was happily pouring money into other countries -- overall Chinese investment abroad was up more than 29%.
The two countries are touting ambitious infrastructure projects, such as plans for a high-speed rail link between Beijing and Moscow, but not much has materialized yet.
"In general we are skeptical about the stories of a Chinese investment boom in Russia," Emolenko said.
"China doesn't seem to be so keen -- there are a few projects, but they are relatively small in the grand scheme of things and seem more to be more of a political favor than China's genuine interest in the Russian economy."
Related: How badly have sanctions hit Russia?
3. Gas pipeline in doubt
A landmark gas agreement Russia and China struck in 2014 was celebrated as an example of the new era of partnership. Under the deal, Russia is set to start delivering 30 billion cubic meters of gas a year from Siberia to China in 2018, with the possibility of increasing shipments to 60 billion cubic meters a year.
But plans for a second pipeline to increase shipments to China are now showing serious cracks. The two countries are having a hard time agreeing on financing due to the global slump in oil prices. Russia's state-owned energy giant Gazprom, which is in charge of the project, is not commenting on the status of negotiations. Russian media say the $55 billion second pipeline project has been "postponed indefinitely."
Related: Investors pull $1 trillion from emerging markets
4. New sources of finance
China has stepped up in one area -- lending money to Russian business.
Many Russian companies are struggling to repay foreign debts, because they've been largely cut off from European and U.S. financing. China has become the biggest foreign lender to Russian companies -- loans totaled $11.6 billion in 2014, compared with $7.5 billion in 2013.
But China's role is still relatively small compared to Western lending before the sanctions. In 2013, Russian companies borrowed $22 billion from the UK alone.