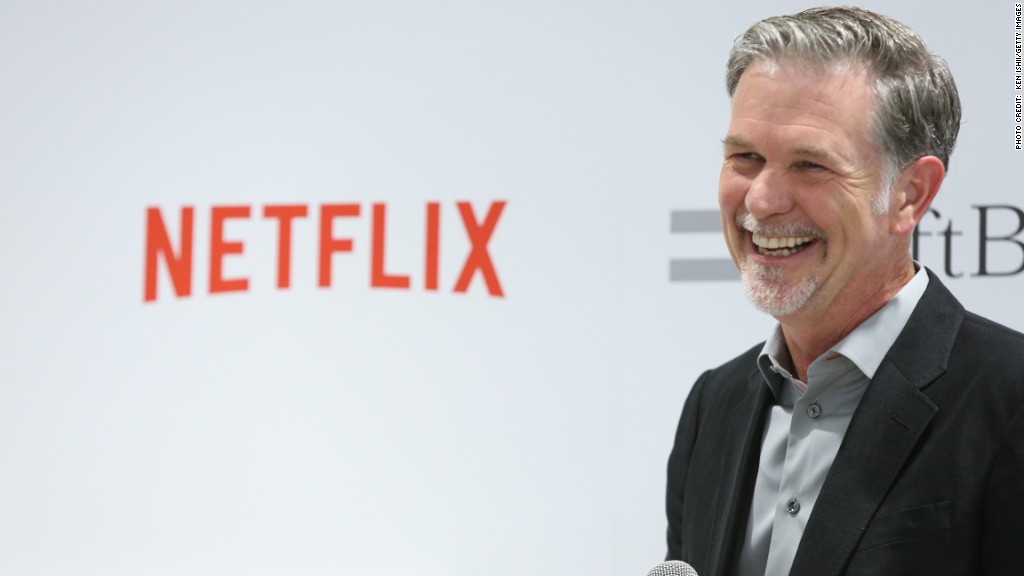 Netflix CEO Reed Hastings doesn't appear to be too worried about Apple muscling into his territory, even if investors are.
Netflix shares fell more than 8% on Tuesday following reports that Apple (AAPL) might be considering a move into original programming, which would challenge streaming services like Netflix and traditional TV networks like ABC.
"Other people are doing shows too," Hastings told CNN on Wednesday. "HBO is doing shows, FX are doing shows ... so the fact that additional tech companies may be doing shows, that's really not that big a deal given the total number of shows being produced around the world."
It's not clear exactly what Apple has planned. But one thing is for certain: the company is reaching out to entertainment executives for confidential talks.
An executive familiar with the outreach to Hollywood told CNNMoney that Apple is assessing whether it should start to bankroll original TV shows and movies. At the same time, it could become a deep-pocketed new buyer of content from Hollywood studios.
The source cautioned that it is "very early days."
Apple could just be looking to expand what it's already doing with Apple Music, perhaps by financing music documentaries or concert films.
But the Hollywood meetings come at a time of intense competition for audience attention and subscription dollars.
Hastings said Wednesday that Netflix (NFLX) is focused on producing "great shows, and we're executing." He cited the example of "Narcos," a new program that explores the history of cocaine.
Netflix shares have more than doubled this year. But the stock sank more than 2% Monday, after the company announced it had decided to let its distribution deal with Epix expire, which includes popular movies from the studios Lionsgate, MGM and Paramount. A few hours after Netflix's statement, rival streaming video service Hulu said it had inked a deal with Epix.
Netflix is launching in Japan this week, and Hastings said he is working on plans to be in every country in Asia by next year -- including China and India.
-- Brian Stelter and Hope King contributed reporting.