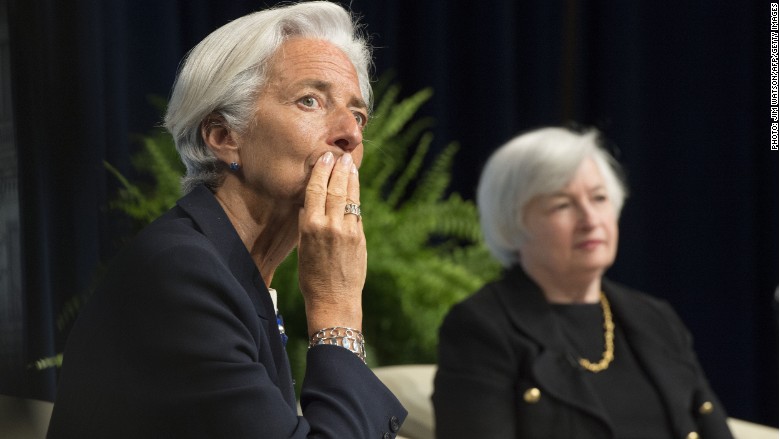 Just. Don't. Rush. It.
The International Monetary Fund has warned the world's biggest economies against raising interest rates too soon. There are still too many risks to global growth, the fund said. Advanced economies should continue to pursue "growth supportive policies."
The warning came in a letter to central bankers and finance ministers of the G-20 group of leading economies, who are meeting in Turkey this week.
Higher interest rates could damage the already fragile economic recovery.
"Monetary policy must stay accommodative to prevent real interest rates from rising prematurely," the IMF said. In other words, rates should rise later rather than sooner.
Related: World is still hooked on cheap money
As expected, the European Central Bank kept interest rates at record lows when it met on Thursday.
The global economy has been hit by a slowdown in emerging markets, lower demand from China, weak commodities prices, and a sluggish recovery in the world's most advanced economies. Data show that global growth in the first half of 2015 was weaker than in the second half of 2014, the IMF said.
The U.S. Federal Reserve is facing a rate decision later this month. Until recently, most economists were betting on a September interest rate hike, but the stock market crash in China and market volatility now points towards a later date.
Friday's key U.S. jobs report could well determine whether or not the Fed will raise official interest rates for the first time in nearly a decade.
IMF Managing Director Christine Lagarde said in June that the Federal Reserve should wait until 2016 before it raises interest rates off their historic lows.