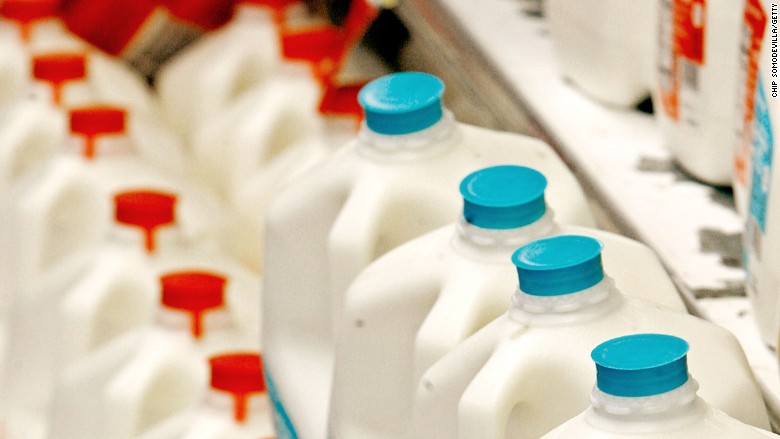 Europe is drowning in milk.
Russia has banned imports, Chinese demand is weakening and limits on production have been removed. The result: a huge glut of milk.
There is so much sloshing around the European Union that milk is often cheaper than bottled water. A liter bottle of water costs around $1.50 in the U.K.; a liter of milk $1.
In France, milk is also around $1 per liter, similar to the price of mineral water. And in German discount supermarkets such as Lidl and Aldi, a liter of milk can be as cheap as 55 cents, while a liter bottle of water costs around 72 cents.
The slump is a disaster for dairy farmers. Thousands protested in Brussels Monday, blocking streets with their tractors, and showering police with hay and eggs.
While the price of milk in shops has fallen by around 5% this year, wholesale milk prices have collapsed by about 20% to around 37 cents.
That's forcing many farmers to sell their milk for less than it costs them to produce it.
The EU said Monday it will provide farmers with 500 million euros ($555 million) in emergency support to help them cope with the plummeting prices.
Europe's dairy farmers were already reeling from the food embargo imposed by Moscow last year in retaliation for Western sanctions over Ukraine.
Russia was one of the EU's biggest markets for dairy products, accounting for 32% of cheese exports and 24% of butter exports.
A slowdown in demand from China, the world's biggest milk importer, is also hurting the dairy industry. China is a big buyer of powdered milk.
Europe's farmers are now calling for the reintroduction of production quotas to try to balance the market. The quotas were abolished earlier this year, leaving farmers free to produce as much as they like for the first time in 30 years.
The deregulation led to more oversupply, piling even more pressure on prices.
"Unless production is reduced, the market will carry on deteriorating at a pace," said Romuald Schaber, president of the European Milk Board, which represents dairy farmers.