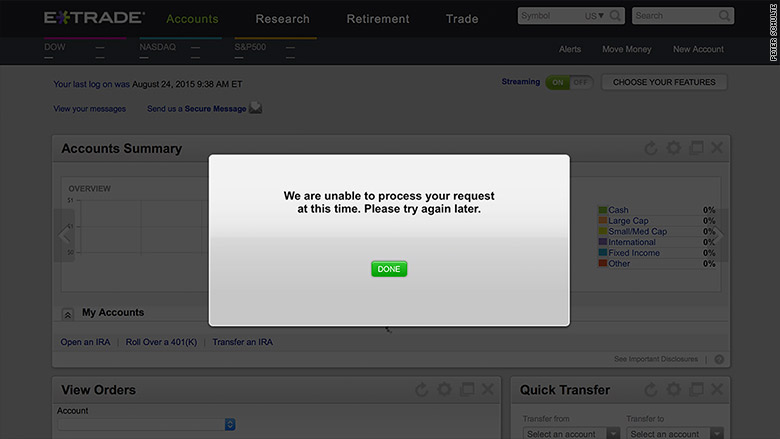 Smart investors know to buy low when the market tanks.
Plenty of individual investors were trying to do just that on August 24 when the Dow plunged more than 1,000 points. But technical problems with their brokers' websites prevented them from making trades at that critical moment.
While issues with trading platforms like Scottrade, TD Ameritrade, and E-trade may have been brief, the problems occurred for many at exactly the right time to buy.
Ricky Hopp says the issues cost him $700, based on the week's closing prices.
Hopp, a sales manager in the Northeast, doesn't keep a lot of money in stocks or trade too often, but he saw an opportunity to make some money when futures were pointing to a 600-point drop at the open that Monday.
He logged into Scottrade without a problem before the market opened and decided to place a limit order for 30 shares of Apple at $96 and 25 shares of Facebook at $77 -- above their trading prices at that time. But when he went to place the orders at 9:30 a.m. ET, Scottrade froze, he said. And then an error message popped up.
Hopp tried several times before calling Scottrade to place his order over the phone. Minutes passed while his information was verified. The orders weren't placed until 9:49 a.m., and by that time the market was rebounding and shares of Apple (AAPL) and Facebook (FB) were already above his price points.
Related: How I made money when the Dow lost 1,000 points
Hopp has been using Scottrade since he was 11 years old (with some help early on from his dad) and he used the money he made on trades to partly fund an engagement ring for his fiance and his upcoming wedding.
He spoke with a Scottrade customer service representative who apologized for the issues. In the end, he was offered 10 free trades or discounted commission for a year. But he really wanted to be compensated for the money he missed out on. He wrote a scathing letter to the CEO that said he'd be taking his business elsewhere.
"The only reason Scottrade exists is to transact trades as close to real time as possible and to allow individual investors to compete with institutional investors," he said.
In a statement, Scottrade said that Monday, Aug. 24, as one of the busiest trading days in its 35-year history. It saw nearly 150% more trades than the average day this year. The site "initially saw some slowness, but quickly returned to normal functionality."
Related: Apple's stock is a screaming buy right now
Hopp wasn't the only one who missed out on some big discounts. Many other people took to Twitter that Monday to complain about Scottrade, as well as TD Ameritrade and E-trade.
Jason Cooper, another investor trying to buy Apple, says he missed out on about a $1,000 in profit.
Cooper, a marketing strategist in Texas, had similar trouble using TD Ameritrade's app. He wanted to buy 200 shares of Apple at $100 each, but when he tried logging into the app at about 10 a.m. it was unresponsive.
He was out at the park with his son, so he tried to call the trading desk and was put on hold. He gave up waiting after 20 minutes to drive home. Cooper was able to make the trade later in the day, but by that time the share price had risen to $105.
"I have been with TD over four years and am quite a passive investor at most times," Cooper said. "This probably exacerbates my sense of being let down on Monday."
TD also admitted to experiencing "some slowness" because of the spike in trade volume. "However, our core trading platforms held up well and we processed a record number of trades," a spokeswoman said.
The company also set up an alternate URL for clients to use to bypass the problem until it was resolved, she said.
Related: Stock market chaos causes issues for investing websites
Peter Schulte, an attorney in Texas, rushed to buy at about the same time Monday but also had some issues with the platform he uses, E-trade (ETFC). He couldn't see how much shares were trading for, let alone execute trades, he said.
Schulte tweeted at E-trade for some help at about 10 a.m. The company replied and said it hadn't had any reports of issues, but would look into it.
"I did appreciate the customer service via Twitter, but I hope it doesn't happen again," Schulte said.
He couldn't make any trades until 3 p.m. At that time, he bought $10,000 worth of shares in Exxon Mobil (XOM) Southwest Airlines (LUV), and American Airlines (AAL), but the market had mostly rebounded from its nosedive already.
"It seemed like the system was just overloaded, like when you're trying to get hot concert tickets," he said.
E-trade did not respond to requests for comment.