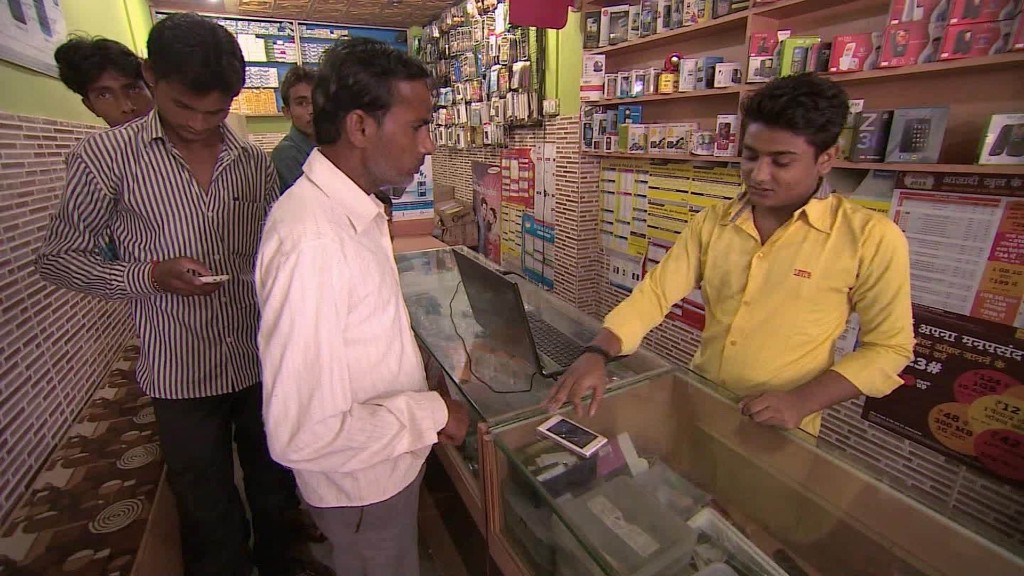 As the world obsesses over yet another September launch of Apple goodies, spare a thought for the world's largest democracy: India doesn't have a single Apple Store.
It's not like you can't buy iPhones and Apple TVs here. You can. It's just that a new iPhone costs roughly what the average Indian makes in eight months.
That's where Micromax, India's homegrown phone giant, comes in. The company, which started as an IT software firm, recently zoomed past Samsung to become India's largest smartphone seller, according to research firm Canalys.
Micromax makes affordable phones. But there's more to its success -- the company describes itself as having "pioneered the democratization of technology in India" with smartphone features that target uniquely Indian needs.
Struggling with power cuts or a lack of access to electricity? Try the phone with a 30-day battery backup.
Frustrated with your mobile service provider in rural India? Use a dual SIM phone and hedge your bets with two mobile networks.
Want to wrestle control of your TV at home? Buy the Micromax phone with a universal remote control.
For most Indians, "the phone is the only thing they have that's truly personal," Micromax CEO Vineet Taneja explained during an interview at company headquarters in Gurgaon, a city southwest of New Delhi.
Related: Is a banking revolution coming to India
Notions of privacy in India are different than in the West. Most Indians live as part of large "joint" families, packed into small homes with shared bedrooms and bathrooms. Households typically have only a single display screen, usually in the living room, where families watch TV while eating their dinners.
"The phone is something that each family member can point to and say: 'this is mine,'" said Taneja, who joined Micromax last year from rival Samsung.
That feeling of ownership explains why features like larger screens or Windows platforms are attractive to some Indians, as they seek to gain the functionality of a TV or a PC exclusively for themselves on a mobile, separate from their families.
And when the device is priced below $200 -- some of Micromax's entry-level smartphones cost less than $50 -- phones become an affordable, must-have accessory.
"Our target bulls-eye audience is India's young, middle class youth," said Taneja. "They are savvy, young, and hungry to be connected, but they don't have enough money for an iPhone."
Related: Uber invests $1 billion in India market
While mobile phone sales have exploded -- there are more than 700 million users in India -- smartphone users still constitute less than a quarter of the total market. Still, with its massive population, that makes India the world's third-largest smartphone market.
"There is a lot of unmet demand in India," said Taneja.
-- Ritika Katyal contributed reporting.