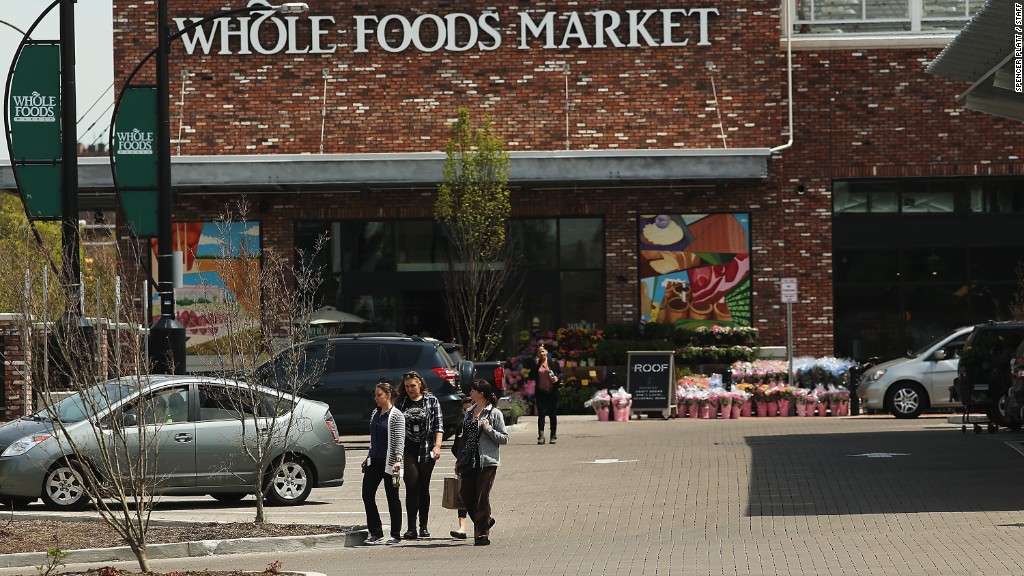 Organic food has gone mainstream. That's bad news for Whole Foods. But great news for supermarket chain Kroger.
Kroger, which also owns Harris Teeter and Jeffrey "The Dude" Lebowski's favorite grocery store Ralphs, reported strong earnings and sales Friday. And it raised its outlook for the year.
A big reason why Kroger (KR) is doing so well is its Simple Truth brand of natural and organic products. Kroger launched it in 2012. Sales from Simple Truth products hit $1.2 billion in 2014.
That is still a tiny percentage of Kroger's overall revenue of $108.5 billion last year. But the brand is quickly becoming more popular since it's a lower price alternative to the 365 line from Whole Foods.
Kroger CEO Rodney McMullen said during a conference call with analysts Friday that "Simple Truth continues to see explosive growth." CFO Michael Schlotman added that same-store sales of natural foods were up more than 10% in the quarter.
One of my Twitter followers joked that his family's appetite alone is largely responsible for Kroger's organic success.
"The EPS beat was all me. Kids are addicted to those Simple Truth Animal Crackers. $KR," tweeted Aaron Levitt.
Wall Street has taken notice too. Shares of Kroger rose 4.5% Friday and are up more than 15% this year. They are not far from their all-time high.
Related: Stick a fork in Whole Foods?
Meanwhile, Whole Foods (WFM) stock has plunged more than 35% year-to-date.
Whole Foods has been cutting prices in order to be more competitive with Kroger and other larger retailers that have embraced organic products in the past few years -- most notably Walmart (WMT) and Costco (COST).
But discounting has hurt profit margins at Whole Foods. Making matters worse, the company still suffers from some bad PR. Many continue to refer to the chain as Whole Paycheck because of its reputation for high prices.
It hasn't helped that New York City found earlier this summer that Whole Foods was overcharging for some pre-weighed items in its stores.
The company was also mocked after one Southern California location inadvertently sold asparagus water -- bottles of H2O with stalks of the green vegetable in them -- for $6.
Related: Whole Foods stock cheaper than 6 bottles of asparagus water
Despite the high-profile problems at Whole Foods, the stock is still no bargain either. It trades for 18 times next year's earnings estimates.
That may not be as pricey as some of its Kombucha tea and kale chips, but it's roughly in line with the valuation of Kroger right now.
Given the momentum that Kroger has and that Whole Foods clearly lacks, you'd think that Kroger's stock would deserve a premium to Whole Foods. But that's not the case. At least not yet.
"Kroger eating into Whole Foods market niche," wrote trader Amigobulls on social media site StockTwits, adding that Kroger was the better stock to buy for the long-term than Whole Foods.