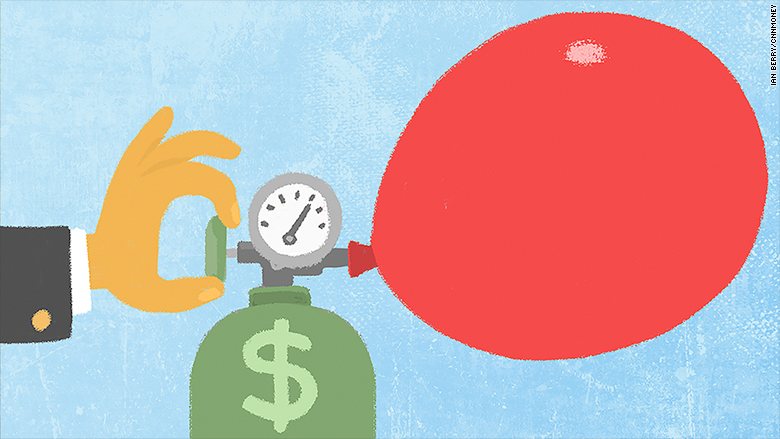 Warning: a bubble could be back in the stock market.
Germany's Finance Minister Wolfgang Schaeuble is the latest to raise concerns that financial markets are getting unhealthy.
"If you look at what's going on [on] a global level, this increasing public and private liquidity on the financial markets ... we are moving to the next bubble," Schaeuble said Friday at a conference organized by the American Council on Germany, according to Dow Jones.
This isn't the first time Schaeuble has raised the caution flag, but it takes on added significance as the U.S. Federal Reserve meets next week to decide whether to raise interest rates from its near 0% level for the first time since December 2008.
Related: Loud chorus of voices tell Fed: 'Don't do it'
"I think we should learn lesson(s) from crises we had," Schaeuble said Friday.
The Finance Minister has warned that there will be consequences from the easy money policies of the European Central Bank and Fed. Both banks slashed interest rates to historically low levels after the financial crisis and have kept them there in an effort to jumpstart economic growth.
However, the low rates have also caused investors and businesses to pump money into the stock market and other riskier assets.
"We have seen that monetary policy -- and finance ministers as well as central bank governors agree on that -- can't solve the problems we face," Schaeuble said. He stressed that many nations need to push forth more difficult structural reforms as well.
Many prominent voices, including the World Bank and the International Monetary Fund, are urging the Fed not to increase rates next week.
While Schaeuble didn't comment explicitly on what he thinks the Fed should do when it meets September 16 and 17, his comments made it sound like he would be in favor of a rate hike sooner rather than later.
Related: China is dumping U.S. debt
Schaeuble's remarks come as a prominent hedge fund manager David Tepper also raised the prospect of a less easy money environment. Tepper said he was "not as bullish" now on stocks.
His waning enthusiasm is due to weaker corporate earnings and the global reality that money is unlikely to keep flowing into financial markets like it has been. The era of low interest rates around the world and central banks doing quantitative easing policies will come to an end soon, he argues.
"We're talking about the market has to come to certain new realities," Tepper said Thursday on CNBC. "When you change the flows, or you may be changing the flows, you better be thinking about changing your positions."