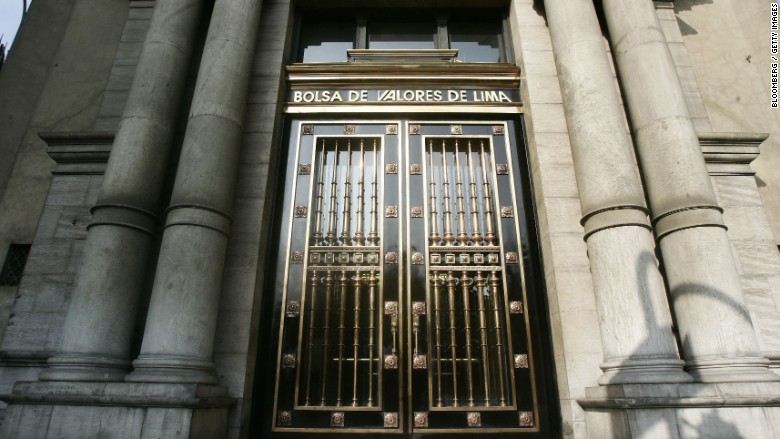 One word is causing a lot of concern in Peru: Frontier.
It may sound like a tiny little detail, but the difference between an "emerging" and a "frontier" market is a big deal to investors and a country's leadership.
In the developing world, that little word change is like going from the varsity team to the junior varsity squad.
The index company MSCI is currently in the process of deliberations over whether it should demote Peru from its class of emerging market countries to frontier markets. MSCI says only three stocks in Peru meet its requirements for emerging markets.
You might think, who cares -- it's just one word, right?
Peru's push to save its title
Related: Brazil's economy falls into recession
Peru cares A LOT.
That's because it will then be plunked in with countries like Nigeria and Bangladesh, which tend to be smaller, more volatile economies. And it will lose its status among a much larger group of emerging markets on MSCI's index, like India and China and also some of its neighbors such as Chile, Colombia and Mexico.
So Peru is pulling out all the stops to prevent the word change.
Peru's economic minister, the chairman of its stock market, top central bank officials, and others made the trek to New York on Monday to make a presentation to investors and the media that the country is worthy of being an emerging market.
"Peru is a country that's a star in the region," said Alonso Segura, Peru's finance and economic economic minister. "We are an exemplary economy."
Related: How Colombia went from a murder capital to tech powerhouse
"It would hurt a lot if we were reclassified to a frontier market," said Christian Laub, chairman of the Lima Stock Exchange.
That negative association could cause foreign investors to pull their money out of Peru -- something officials badly want to prevent.
It's understandable. MSCI is a commonly used benchmark to make investing decisions on developing countries. When MSCI upgraded Qatar and the United Arab Emirates last year, the expectation was that investors would add stocks from those countries in their portfolios. A demotion could likely trigger a flight of cash out of Peruvian investments.
Its case to stay an emerging market
Related: China's big chess move against the U.S.: Latin America
Peruvian officials made their case with these points:
-- Many Latin American countries are struggling from China's slowdown and low commodity prices, but Peru's economy has weathered the storm. In fact, Bank of America (BAC) expects Peru to have the best economic growth this year among Latin America's big players.
-- Currencies in Colombia and Brazil have lost 21% and 31% of their value against the U.S. dollar this year respectively, but Peru's currency, the sol, has only lost 7%.
-- The officials presented a detailed, 10-year plan to make Peru's stock market a financial hub for Latin America. They also listed measures -- such as eliminating capital gains taxes on some stocks -- that will take effect Jan. 1, 2016, to lure foreign investors.
-- International investors are already familiar with Peru. Over the last three years, 30% to 40% of the average daily trading volume in Peru comes from outside the country -- a figure that's rising, officials said.
-- A demotion would hurt Peru's trade pact with its neighbors -- known as the Pacific Alliance, which includes Chile, Mexico, Peru and Colombia.
MSCI did not immediately reply to a request for comment. It will publish its decision on Peru on September 30.
Related: Watch out: strong dollar could trigger a currency crisis
Correction: A previous version of this story misspelled the finance minister's first name. It is Alonso Segura.