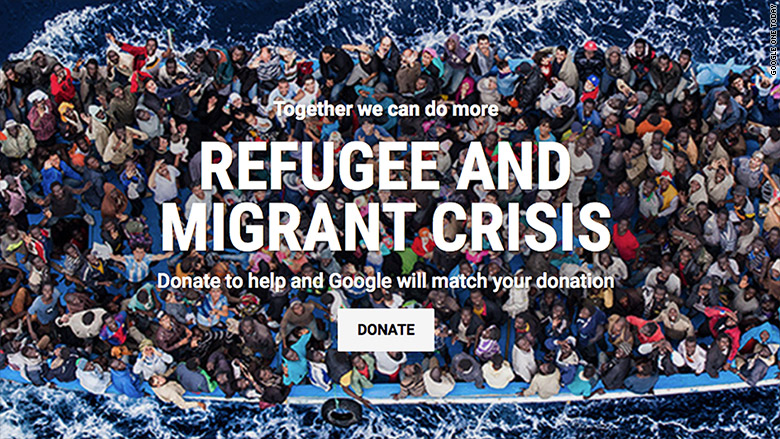 Google is the latest company to make a grand gesture to help with the refugee crisis in Europe.
The tech giant, which has already given over $1 million to relief organizations, is offering to match individual donations up to $5.5 million in the hope of raising $11 million.
Google will hand the funds to Doctors Without Borders, Save the Children, the International Rescue Committee and the UN High Commissioner for Refugees.
The UNHCR says it has now raised more than $20 million from companies and private donors to support refugees arriving in Europe, in transit, or still in Syria and neighboring countries in the Middle East.
Here is a list of some of the other firms that have offered to help as Europe struggles to accept hundreds of thousands of refugees and migrants from the Middle East and North Africa.
TripAdvisor: The travel company said it will donate up to $500,000 and is encouraging others to help through a donation-matching program, similar to Google. The money will be given to the International Rescue Committee and Mercy Corps.
Goldman Sachs: The investment bank is donating £2 million ($3.1 million) to the UNHCR. The money will be used to help migrants arriving at Europe's borders from war-torn countries.
JP Morgan Chase: The firm is pledging up to $1.5 million in corporate donations and is promising to match employee giving. The money will be sent to Save the Children, Oxfam, the International Rescue Committee and the International Medical Corps.
Audi: The German automaker is giving 1 million euros ($1.1 million) to support local emergency aid programs.
ThyssenKrupp: The German industrial giant said it will create jobs, internships and apprenticeships for over 300 refugees who settle in Germany.
SAP: The German software giant said it will provide 500,000 euros ($565,000) to fund refugee integration projects in Germany. It will match donations from its employees, who have so far raised 125,000 euros, and aims to offer least 100 refugees with technical knowledge an internship over the next year.
Uber: The taxi and ride-sharing firm is offering to send drivers for free to collect donations of clothes and toys in 20 European countries. The donations will be given to the charity Save the Children.
Related: How you can help in the migrant crisis
Germany is leading efforts to try to solve the refugee crisis. Berlin expects at least 800,000 asylum applications this year alone, more than any other European country.
However, it introduced stricter border controls this weekend as officials became overwhelmed by the number of migrants coming into the country.
Other countries including Austria and Hungary have also tightened border controls over the past few days.
Related: Today's refugee could be tomorrow's entrepreneur
--Chris Liakos and Ivana Kottasova contributed to this article.