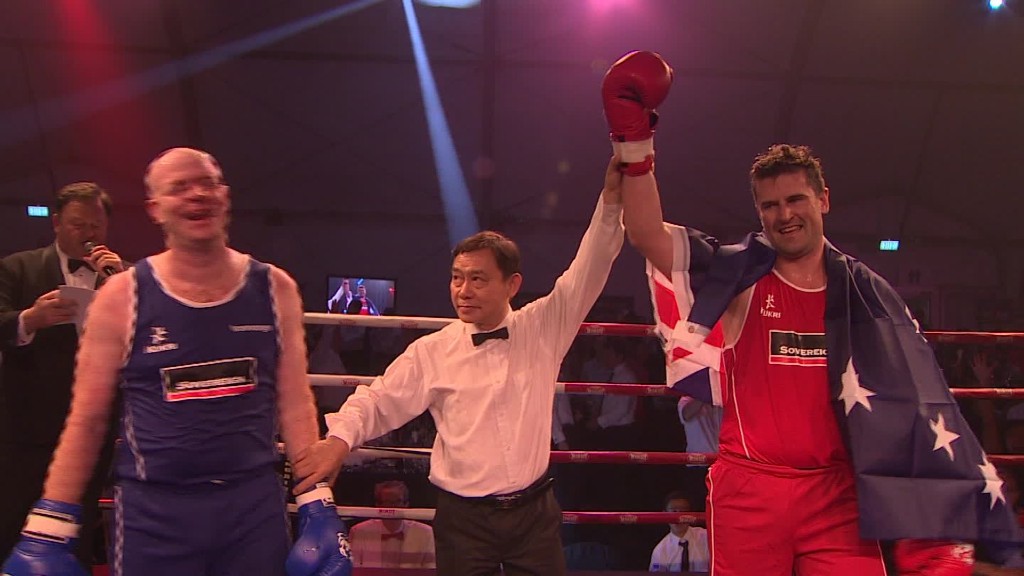 Steve Friel looks like any other finance professional rushing to work in the morning. But when he leaves the office at night, he trades his suit for a pair of boxing gloves -- all in preparation for the fight of his life.
Friel is one of the dozens of Hong Kong-based professionals who have trained rigorously for a chance to fight in front of hundreds of cheering, boozing friends at "Hedge Fund Fight Nite," a black-tie charity fundraiser where the night's entertainment is watching bankers knock each other around.
White-collar boxing has exploded in popularity in global financial hubs including Singapore and London since getting its start decades ago at Gleason's Gym in Brooklyn.
"It's a big endorphin kick, even if you get hit in the face," said Friel, marketing director at fund manager Asia Frontier Investments. "You have to remember, 'oh, that's what I signed up for.' "
On the big night, Friel, nicknamed the "Ginger Ninja," is among the final 16 pugilists. He's got three two-minute rounds to pulverize his opponent, Will "Tyrannosaurus" Jefferies, a vice president at the Bank of New York Mellon.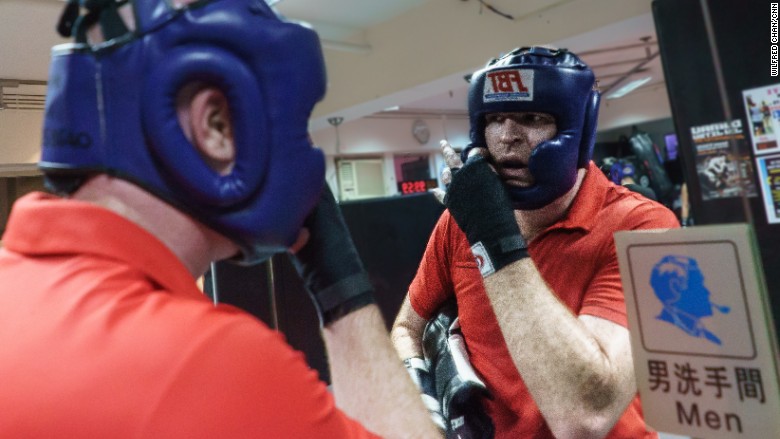 Friel signed up for the fight on a whim in May to whip himself back into shape. Over the past few years, he had broken both arms, and moved abroad to Hong Kong. As a result, he wasn't exercising as much as he used to back home in Australia.
Now, he's boxing around four times a week, along with weekend hiking and running. A self-proclaimed lover of burgers and beer, Friel has even cut those out of his diet, replacing them with fruit smoothies, vegetables and lean protein.
"I get to work bright-eyed and bushy-tailed every day of the week ... the alarm clock in the morning isn't a nightmare," he said of his new routine. "Excel spreadsheets don't look so complicated."
But boxing has been a "minor occupational hazard," Friel joked -- about a month into training, he got a black eye, attracting funny looks at a work meeting. "When you're client-facing, you can't turn up as if you've just been in a bar brawl!" he said.
Related: Manny's Pacquiao's name defeats most boxing 'experts'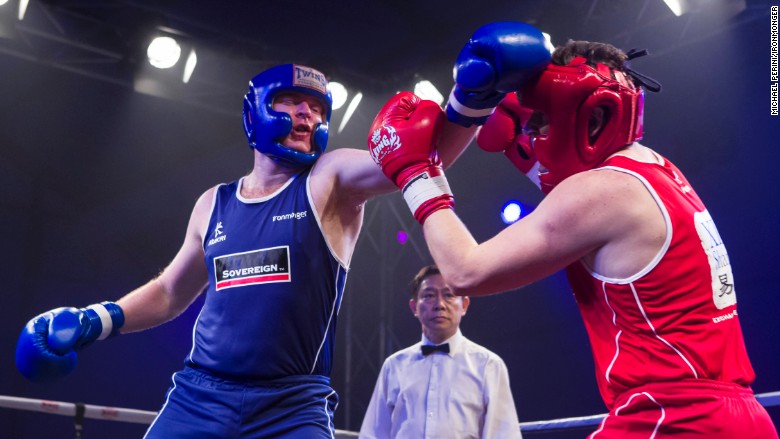 Getting amateurs up to snuff in a few months takes patience, said Friel's trainer Andrew Wong Kee. "It's all about repetition until it becomes automatic," he said. "If you're thinking about it, you're going to get whacked before you know it."
Fast forward to September -- Friel, who worked until 3:00 p.m. the day of his debut fight, is prepping in the blue corner, lobbing a few light jabs here and there and soaking in one final pep talk from his trainer.
Ding! The bell rings and the punches go flying.
Both the "Ginger Ninja" and "Tyrannosaurus" knock each other backward with major blows. The crowd goes wild for more action -- but before you know it, the final countdown begins and the bout is over. The two men slink back to their corners, completely exhausted and dripping sweat.
They rip off their headgear and gloves, waiting for the judges' final decision.
Friel goes home with the silver, but that doesn't seem to dampen his spirits. All the intense workouts meant "I lost my big belly!"
And after months of training with Jefferies, the two have become buddies -- he's happy to see his friend win.
"We both landed some really good shots -- he just landed more of them," Friel said after the fight. "I'm going to go drink a beer with my gloves on!"