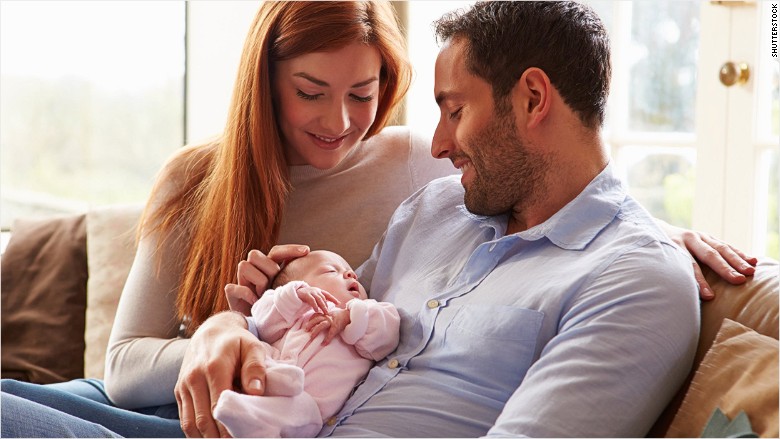 It's time to adopt a paid family and medical leave policy in the U.S.
That's the message more than 200 faculty members from some top business schools are telling Congress.
A letter signed by 203 professionals from 88 business schools across the country was sent to Congress on Tuesday urging them to pass the Family and Medical Insurance Leave Act (FAMILY Act).
"The nation must adopt a policy built for the populations and workforces of today and tomorrow, one that recognizes that entrepreneurship, mobility and care needs are all on the rise but so is the creation of low-wage jobs that offer few benefits to employees," the letter stated.
The FAMILY Act would create an insurance program that offers 12 weeks of leave for family and medical purposes with partial pay. The program would have a structure similar to that of Social Security: funded through payroll contributions and covering companies of all sizes.
Related: This company is trying to make life easier for employees with babies
"This kind of legislation doesn't just provide actually-needed substantive economic support, but it also creates a new kind of legitimacy for people to take advantage of the supports that are available to them," Stewart Friedman, a professor at the Wharton School at the University of Pennsylvania who created the letter, told CNNMoney.
The U.S. is the only developed nation that doesn't offer a formal paid leave policy for new mothers. Some workers can take up to 12 weeks of unpaid leave following the birth of a child under The Family and Medical Leave Act (FMLA), but according to the letter, less than 60% of workers are eligible for this leave.
"And many workers who are eligible and need FMLA leave cannot afford to take it," the letter noted.
So far, the response from Capitol Hill has been quiet. "Nobody has picked up the phone to say, 'hey professor, thank you so much you have me on board,'" said Friedman.
WATCH: Companies offering more parental leave
While there is no federal mandate, California, New Jersey and Rhode Island have paid family leave insurance programs, and some companies have been enhancing their parental benefits.
"There's a snowballing effect of companies falling over each other now, especially in the tech world, to come up with policies...to provide parental leave."
This summer, Netflix (NFLX) announced unlimited paid time off for new parents during a child's first year and Hilton (HLT) recently announced new moms, including part-time and salaried workers, will be able to take up to 10 weeks of paid time off.
The letter also noted that Millennials, the newest generation to enter the workforce, is worried about their work-life balance.
"Young people are pressing this movement to push the pendulum back from what has evolved over the last decades of the 24/7 365-days-always-being-available mentality. We are seeing a shift back from that, for economic, moral and health-related reasons," Friedman said to CNNMoney.