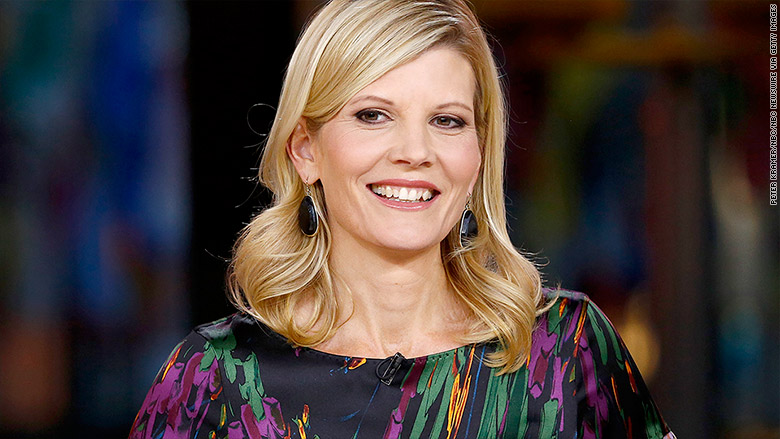 NBC News has tapped national correspondent Kate Snow to anchor the Sunday editions of "NBC Nightly News," alongside her new role as an afternoon weekday anchor for MSNBC, the network announced on Thursday.
Snow's promotions at both channels come as NBC News/MSNBC Chairman Andrew Lack seeks to create greater cohesion between his two networks, turning the traditionally liberal MSNBC into a more news-focused extension of the NBC News brand in daytime. Snow will be the second anchor, alongside Chuck Todd, to host shows on both networks.
The Saturday and Sunday "Nightly News" slot have been vacant ever since weekend anchor Lester Holt replaced Brian Williams on the weekday edition. NBC hasn't yet announced who will take over the Saturday slot.
Snow has worn many hats for the NBC News division, reporting on a range of national and sometimes international stories while also serving as a fill-in anchor for "Nightly News" and the "Today" show. Snow joined NBC News in 2010 from ABC News, where she anchored the weekend edition of ABC's "Good Morning America" and served as a White House Correspondent.
"Kate is a compassionate storyteller who approaches every assignment with equal parts determination and heart," Deborah Turness, President of NBC News, said in a statement. "Her broad range as a journalist, skill as an anchor, and familiarity with our audience is sure to lead 'Nightly' to continued success on Sundays."
Snow's MSNBC show begins Oct. 4 and will air from 3 p.m. to 5 p.m. on weekdays, followed by Chuck Todd's "MTP Daily," an extension of "Meet The Press" that will air from 5 p.m. to 6 p.m.
Williams, the former Nightly News anchor, will lead the cable network's daily breaking news coverage.
Williams will take former Nightly News executive producer Pat Burkey with him to MSNBC. Burkey will serve as EP for the network's afternoon coverage while Izzy Povich, the network's VP of Talent and Development, will serve as executive producer for the morning coverage.
Sam Singal, who served as senior broadcast producer for "Nightly" and as Lester Holt's EP on the show's weekend editions, has been promoted to EP of NBC Nightly News, effective Monday.