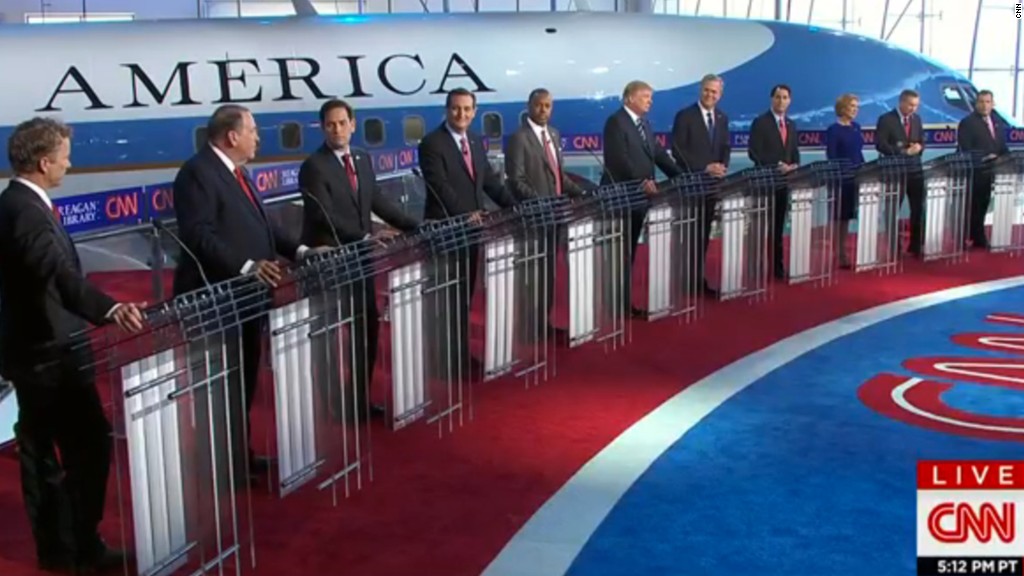 From the start, the CNN Republican debate was a battle of the CEOs. Donald Trump and Carly Fiorina came out firing, especially at each other.
Trump called Fiorina one of the worst CEOs of all time. "She can't run any of my companies," he said.
Fiorina shot right back: "You were forced to file for bankruptcy not once, not twice, [but] four times."‬
It was one of many pointed exchanges between the two top business leaders in the Republican field as they tried to set themselves apart.
Fiorina's break out moment
Fiorina kept hammering Trump all night.
"Why should we trust you to manage the finances of this nation any differently than you manage the finances of your casinos?" she questioned.
But her break out moment was when she was when CNN debate host Jake Tapper asked her to respond to Trump's remark about her in "Rolling Stone:" "Look at that face. Would anyone vote for that?"
"I think women all over this country heard very clearly what Mr. Trump said," she said, garnering lots of applause from the audience and on social media.
Trump is not one to let anything go. He managed to get the last word in, saying, "I think she's got a beautiful face, and I think she's a beautiful woman."
Related: See Trump and Fiorina's first jobs
Their track records as CEOs
Expect both Trump and Fiorina to face more questions about their business leadership.
Fiorina likes to stress her personal story. She started out as secretary for a small real estate company located just down the road from Hewlett-Packard (HPQ), the company she would one day lead.
But her nearly six years at the helm of HP coincided with the tech bubble bursting. The company's stock tanked, she laid off 30,000 workers and she was fired.
"When you challenge the status quo, you make enemies," Fiorina said in the debate. "I was a terrific CEO, the board was dysfunctional."
Current HP CEO Meg Whitman has come to Fiorina's defense that the layoffs were necessary to make the company more competitive.
But Fiorina's track record is likely to dog her, especially what turned out to be a very poor decision to have HP acquire Compaq in 2002.
Related: Carly Fiorina shined in debate. But will HP past doom her?
Trump has his own explaining to do. He likes to stress that he has never filed for personal bankruptcy, but the fact that his casino companies have ended up in bankruptcy four times is hard to brush off.
No major US company has filed for Chapter 11 bankruptcy more than Trump's casino empire in the last 30 years, according to Bankruptcy.com.
"Atlantic City is a disaster," Trump argued in the debate. "I knew when to get out. My timing was great."
Related: Forget what Trump says about Fiorina's face. Her HP record is the issue
CNNMoney's Paul La Monica and Chris Isidore contributed to this article.