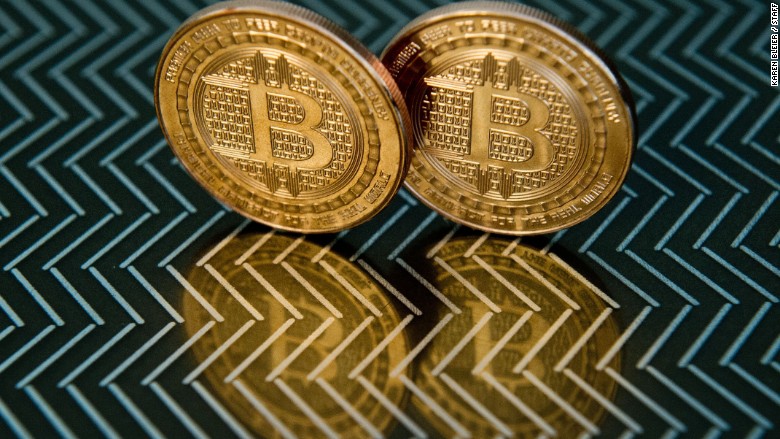 Bitcoin lovers have been searching for a way to safely invest in the enormous potential they see in the crypto currency.
Buying actual bitcoins has proven dangerous, to say the least. Just look at the unbelievable turbulence in Bitcoin prices -- the currency's value shot up 6,000% in one year before collapsing in value -- and the alleged fraud at the Mt. Gox Bitcoin exchange that led many investors to lose money.
In theory, an exchange-traded fund, or ETF, that mirrors the price of Bitcoin would offer a somewhat safer alternative. Think: something akin to SPDR Gold Shares ETF (GLD), which tracks gold prices.
But no Bitcoin ETFs have been created. An effort by the twins Cameron and Tyle Winklevoss to do just that has been waiting two years to receive approval from regulators. The Securities and Exchange Commission is still trying to figure out how to define and oversee Bitcoin.
This week, ARK Investment Management announced a full embrace of the digital currency. Its ARK Web x.0 ETF (ARKW) became the first ETF to invest in bitcoins.
"Current prices present an attractive entry point for our investors," Cathie Wood, ARK's founder and chief investment officer, said in a statement.
But before taking a leap, it would be smart to read the fine print of the ETF, which trades under the ticker symbol "ARKW."
First, it's not a pure play on Bitcoin. Even though it announced the Bitcoin play, the ETF is actually an investment in what it calls disruptive technologies. The crypto currency represents just a slice of its holdings, packaged along with Netflix (NFLX), LinkedIn (LNKD) and athenahealth (ATHN), a cloud-based provider of electronic health records.
Related: Chinese gamblers are all about Bitcoin trading
It's investing in pink sheet security, not actual Bitcoin
Second, the ARK ETF is not actually investing directly in bitcoins. It's buying shares of something called the Bitcoin Investment Trust. Most people haven't even heard of that.
That trust started trading in May on the pink sheets under the ticker symbol "GBTC." It's got a market valuation of under $40 million and very little trading volume.
The pink sheets, also known as the over-the-counter market, provide less transparency and oversight from regulators. They're like a Wild West alternative to the New York Stock Exchange and Nasdaq.
"Pink sheets are where most investors aren't willing to tread," said Matt Hougan, CEO of ETF.com, a research firm.
GrayScale, which sponsored the Bitcoin trust, defended the decision to list on the pink sheets and noted that a number of major foreign companies such as Adidas (ADDDF) and Roche (RHHBF) list their U.S. shares there.
Related: Winklevoss twins say Bitcoin will explode beyond $1 trillion
Spotty track record at mirroring Bitcoin
Another problem is that the investment hasn't really mirrored the price of Bitcoin, which defeats the purpose. At times the trust's shares have spiked or surged -- even though underlying Bitcoin prices were relatively calm.
"You're not really getting Bitcoin here. You're getting a Bitcoin derivative that kind of tracks the price of Bitcoin -- but not really well," said Hougan. "There are a bunch of leaps of faith in that chain of command."
The ETF company brushed away these concerns, suggesting that price volatility is actually a good sign.
Another risk for the investment is regulatory. The trust warns investors in disclosure documents that its future may be jeopardized by looming regulation from the SEC.
Related: Former fed in Silk Road case stole $820,000 in bitcoins
Bitcoin is not for the faint of heart
All of this is on top of the inherent risk that goes into investing in anything that has volatility of Bitcoin.
Founded in 2009, Bitcoin burst onto the financial scene this decade as investors looked for an alternative to traditional currencies. Prices skyrocketed more than 6,000% in 2013 before peaking at nearly $1,250.
And then prices collapsed, losing two-thirds of their value last year alone. While Bitcoin has actually calmed down a lot lately, it's still down 27% this year to $230 apiece.