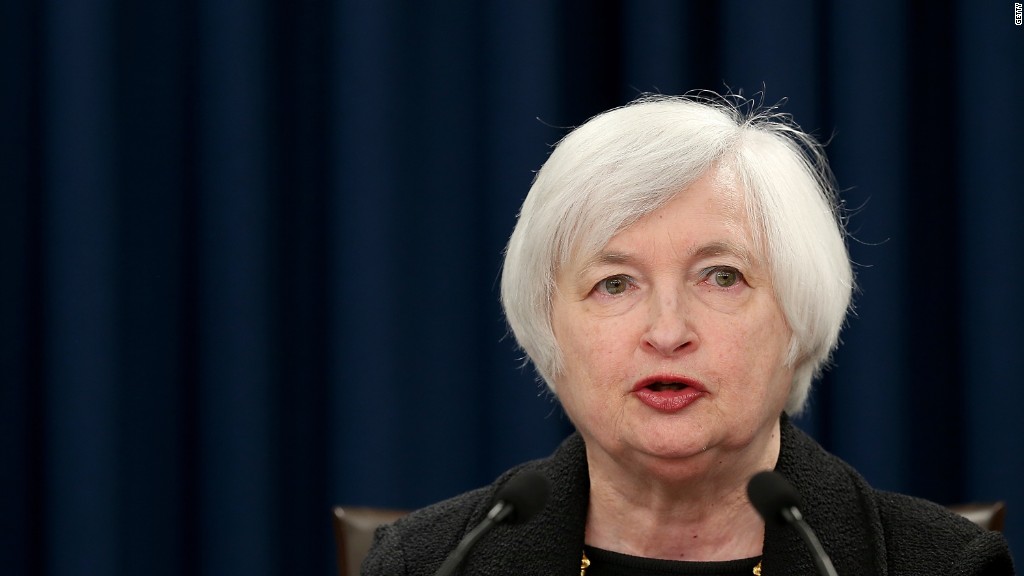 The Federal Reserve wimped out and didn't raise interest rates Thursday, citing concerns about China and other global factors.
But most economists expect the Fed will finally hike rates from the record lows of near zero later this year. It will probably come in December, a move that some traders may view as the Grinch stealing the easy money Christmas.
But at least one member of the Fed seems to have a thing for one of the coolest villains in "The Running Man." He or she wants rates to be ... subzero!
Yup, according to the Fed's dot plot -- which shows the projections of all 17 of the central bank's members -- there is one lone wolf (or shall I say dove?) that has a target of negative rates for this year and 2016.
Related: No liftoff: Fed leaves rates near zero again
What the wha? Negative interest rates? Did I miss the memo that the United States had applied to join the European Union?
Rates had turned negative in some parts of Europe earlier this year due to concerns about deflation -- persistently lower prices that can cripple an economy.
Some European corporate bond rates, including Nestle's, even dipped to less than zero. (Cue up that Bangles version of "Hazy Shade of Winter!")
When rates are negative, banks essentially pay borrowers to take out money, instead of the other way around.
In theory, negative rates would encourage consumers to save less and spend more. They would also weaken a country's currency, which would be good for its exporters.
So are things so bad around the world that the U.S. should be thinking about dropping rates below zero?
Probably not.
During her press conference Thursday, Fed chair Janet Yellen said "negative interest rates was not something we considered very seriously at all."
Related: Wall Street struggles to decode Fed decision
But economists said the precipitous plunge in commodity prices -- especially oil -- is raising the specter of global deflation. There is definitely little inflation to speak of in the U.S.
Wages are still growing at an anemic pace and overall consumer prices -- including food and energy -- are relatively flat over the past year.
"The negative interest rate call gives some indications that there are still ongoing concerns about the economy," said Sean Snaith, an economist at the University of Central Florida. "This is a recovery that has underperformed from the get-go."
Snaith added that negative rates probably would not change much for the economy though. The jury's still out on whether they really helped in Europe.
"Negative rates would be a desperation move, a last ditch effort," he said.
Then again, the Fed wants to see more inflation. It must be frustrating to the central bank that trillions of dollars in bond purchases coupled with near-zero interest rates were unable to do the trick.
In other words, never say never.
"Negatives rates are not out of the realm of possibility under really adverse circumstances. But we're not there yet," said Keith Hembre, chief economist at Nuveen.
Related: The crazy world of negative interest rates
Hembre thinks that the Fed member who is advocating for negative rates is one who has been "outspoken about being more urgent about the Fed getting back to its 2% inflation target."
He didn't want to name names. But it's not hard to figure out who this negative creep (best song on Nirvana's Bleach album!) is.
Minneapolis Fed president Narayana Kocherlakota wrote an op-ed in the Wall Street Journal last month titled "Raising Rates Now Would Be a Mistake."
In that op-ed, Kocherlakota expressed concerns that inflation could remain below the Fed's desired 2% level until the 2020s.
And according to two tweets from the verified Twitter account of the Minneapolis Fed, Kocherlakota said this at a town hall event earlier this month in response to a question about negative rates.
Related: China slowdown is already hurting Europe
"We've seen this with Swiss bonds paying negative nominal interest rates; cash hard to keep if you have a lot."
"Negative nominal interest rates easier to manage than cash but can influence people to spend instead of save."
If it's true that Kocherlakota is the source of the negative rate call, it's important to also note that his dot won't be there much longer. He's retiring at the end of the year.
So it will be interesting to see if any other Fed members adopt his uber-accommodative stance once he's gone.
The Fed does not identify the names behind the dots. And the Minneapolis Fed had no comment.