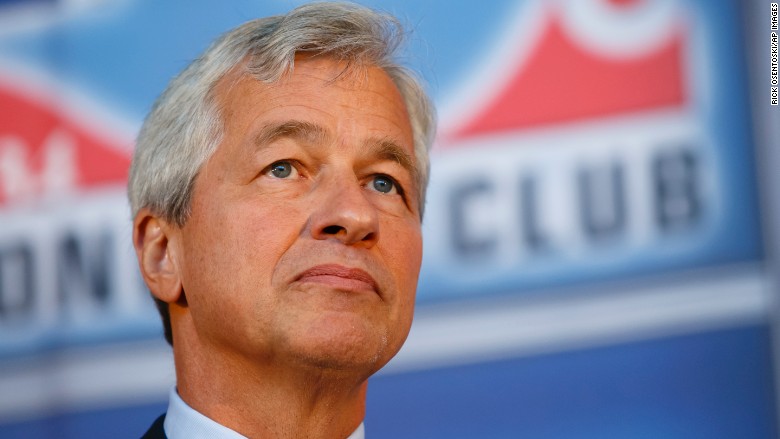 JPMorgan Chase CEO Jamie Dimon would be fine with having to pay a bit more in taxes.
Dimon, who made $20 million last year and is now a billionaire, made the comments Sunday on NBC's "Meet the Press."
"If you said to me, 'Would you pay 10% more?' I would have no problem with that," he said. The top income tax rate for people like Dimon is currently 39.6%. In the past, America's wealthiest have faced a tax rate as high as 91%.
How much senior executives make -- and pay in taxes -- has become a hot issue on the 2016 campaign trail. Republican frontrunner Donald Trump says it's a "complete joke" that CEOs make so much money.
Related: Donald Trump says we should tax the rich more
Democrat Bernie Sanders repeatedly talks about how wrong it is that the average American CEO "now makes nearly 300 times more than the average worker."
Dimon has long been a Democrat. He supported Hillary Clinton in the past, but would not pledge his support to her on Sunday.
"I am not going to get involved in politics at this point," he said, adding that he's "still a Democrat."
Trump has yet to release his tax plan, but he has said that hedge fund managers are "getting away with murder" and should pay a lot more in taxes. Sanders has gone as far as to say he would be OK with bringing back a 90% tax rate on the wealthiest Americans, something that hasn't been in place since the early 1960s.
Related: Trump has little respect for Wall Street
While Dimon indicated he would be willing to pay higher taxes, he also emphasized that money needs to be spent better in Washington on things like roads and education.
He blasted Congress for considering shutting down the government at the end of the month.
"A government shutdown is just bad management," the JPMorgan (JPM) CEO said.
Some Republicans don't want to pass budgets for the next fiscal year that begins Oct. 1 or raise the debt ceiling -- the U.S. borrowing limit -- without defunding Planned Parenthood.