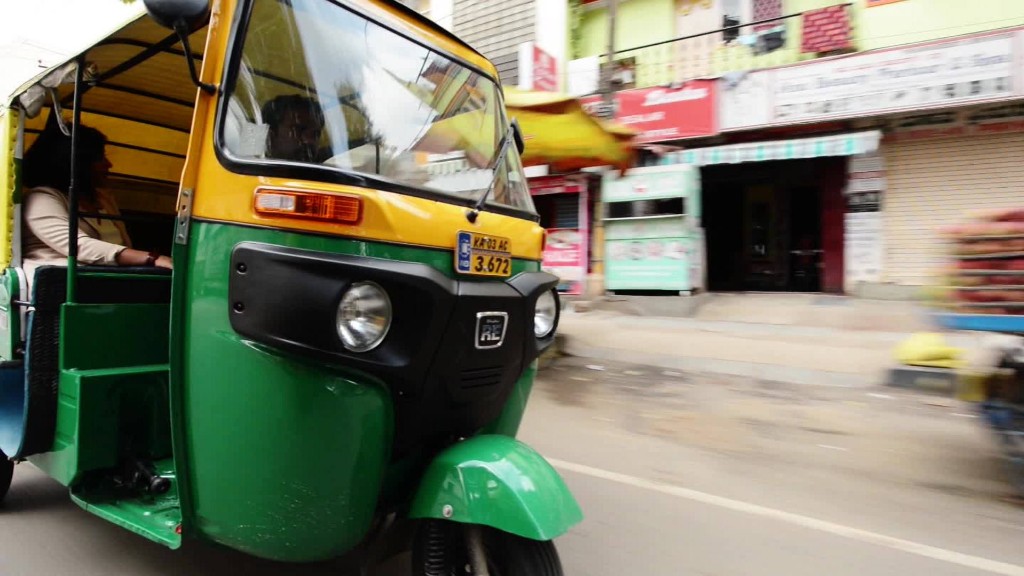 Uber's march to world domination has hit a snag.
The app-controlled ride-hailing service has built a $50 billion empire in 60 countries, blitzing local rivals along the way, but its attempt to capture the vital market of India has met with stiff competition.
The Bangalore-based Ola Cabs operates a similar on-demand service, which has grown dramatically since its launch in December 2010, and now covers 750,000 journeys a day across 100 cities.
With the recent acquisition of competitor TaxiForSure it holds 80% of the on-demand taxi market, according to investment group Softbank, with Uber on just 4%.
Ola believes it has an edge because it is well suited to the Indian market; it accepts cash payments and uses regional languages.
"What sets us apart is that we understand local economics better," says Anand Subramanian, Ola's communications chief. "We know that a driver in Chennai will react differently from a driver in Delhi for a particular element of the product.
"An auto driver in Chennai will see his device in Tamil, an auto driver in Hyderabad will see his device in Telegu ... A customer from Ahmedabad gets to talk to someone in Gujarati."
Ola is happy to focus on India rather than the international market as the growth opportunities are huge. India will soon have the largest population in the world but has low levels of car ownership. From a low base, India's smartphone penetration is projected to rocket upwards, increasing the potential market for on-demand taxis.
Another critical factor is the rapid assembly of a skilled workforce. With Ola, Uber and smaller competitors all expanding, drivers are in demand and the market leader seeks to attract them with financial incentives, training and more recently the opportunity to lease cars and run their own franchise.
Ola driver Mahesh Chandra says that working for the company has changed his prospects: "I earn twice as much as I did when I was driving for a call center earlier. There would have been too many loans (before). I would not have been able to educate my family."
Ola is also diversifying its output -- spurred by moves from its rivals. It has added food delivery and a shuttle service, features that Uber offers in various markets.
Uber has responded by accepting cash payments and using rickshaws. The group has also signaled its commitment to India with a major investment drive and expansion into seven new cities, taking its total to 18, more than any country except the United States.
The wider picture is the emergence of Bangalore as a world-class innovation hub, which can now produce rivals to Silicon Valley's elite. The city made famous by its call centers also hosts local success stories such as Wipro and Infosys alongside global giants including IBM.
"It is the go-to place for young entrepreneurs ... Every coffee shop has conversations running around start-ups and what to do next," says Subramanian. "The talent is ready, there is great infrastructure, and venture capital ecosystem has blossomed in Bangalore in a big way."