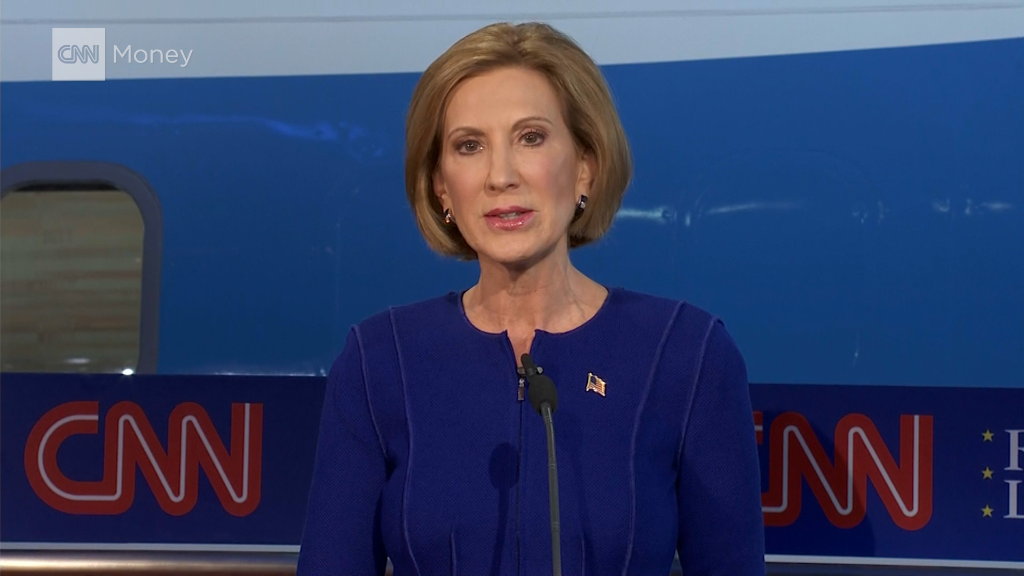 It's hard to run for president when your name is synonymous with massive layoffs.
The No. 1 criticism lofted at Carly Fiorina is that she oversaw the disastrous 2002 Compaq merger, leading to some 30,000 layoffs at Hewlett-Packard during her tenure as CEO.
Fiorina has tried to spin the layoffs, saying they were the result of bad timing that coincided with the bursting of the tech bubble in 2000.
She has also noted -- correctly — that despite bruising layoffs, she hired more people than she fired. HP and Compaq had a combined 148,100 employees just before she was hired in 1999, and 150,000 by the time she was fired in 2005.
Still, along the way, the cuts were painful.
2000: Voluntary Buyouts
Fiorina was named CEO in July 1999 and eight months later, in March 2000, HP offered 2,500 employees a voluntary buyout package. 1,300 employees accepted the offer.
2001: Furloughs and Job Cuts
In 2001, Fiorina asked employees to volunteer to take furloughs, hoping that the unpaid time off would stave off further job cuts. HP said the 80,000 who volunteered to take the furloughs saved the company $130 million. But many of those people ended up getting laid off anyway.
Later in 2001, HP laid off 7,500 employees. The tech bubble had burst sending many countries into a recession. People weren't buying as many computers, and HP needed to cut costs to save money.
2002 and 2003: More furloughs and job cuts
In 2002, HP asked employees to once again take furloughs over the Christmas break. HP was hardly alone: Dell and Gateway (remember Gateway?) also furloughed their employees. Unlike its competitors, HP allowed its employees to use accrued vacation time.
But HP remained the biggest job-cutter. The company also laid off 8,600 more employees in 2002.
In 2003, HP laid off another 9,000 employees.
In all, the terminations cost HP 26,400 jobs. And that doesn't include that five months after Fiorina left in February 2005, HP announced another 15,200 job cuts.
For sure, HP was not alone in cutting jobs during the dot-com bust. Many tech companies went out of business.
And the job cuts did help HP save money through a particularly difficult time in the tech industry. Of the $3 billion a year HP said the merger helped save in "cost synergies," $2 billion of the annual savings were attributed to layoffs and plant shutdowns.
But Fiorina made a huge gamble in acquiring Compaq — and it didn't work, sending HP into a tailspin it is still trying to climb out of.
HP has announced more than 100,000 job cuts since Fiorina left. And current CEO Meg Whitman is now spinning off the PC unit that Fiorina created with the Compaq merger.
When Fiorina was fired, she took home a $21.4 million severance package, which included $50,000 for career counseling. (Shareholders later sued, saying she got too big of a golden parachute).