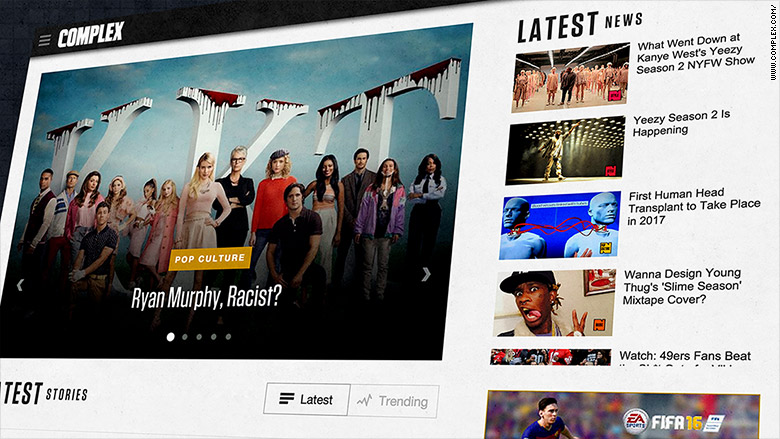 Hearst is investing $21 million in the lifestyle website Complex, the latest in a series of major media companies' bets on digital ventures.
The investment gives Hearst an unspecified minority stake in Complex, which was founded by the fashion designer Marc Ecko in 2002.
The deal is about "bolstering our crazy ambitions in this business," Ecko said in a telephone interview. Hearst's investment "will allow us to expand in the most important category out there right now, which is video."
Complex produces mostly mostly short-form video and, like many other digital players, wants to accelerate what it's doing. Ecko said he believes the Complex brand is "our generation's MTV."
Complex last raised money back in September 2013 -- $25 million from Iconix Brand Group, a fashion brand conglomerate.
The company wasn't necessarily looking to raise more money when Hearst called.
"We actually approached them because we believe in the power of the content they have," said Neeraj Khemlani, the president of Hearst Digital Studios.
"As we're trying to figure out digital video and the future, this adds to a very powerful bouquet of strong brands with great content and great loyal followings," Khemlani said.
Hearst's other digital media investments include stakes in Vice, BuzzFeed and AwesomenessTV.
Complex bills itself to advertisers as a way to reach tens of millions of young men. The company says it has 158 million global readers a month, citing internal data.
Complex started as a magazine, but is now best known for its website. The site has sections devoted to style, music, pop culture, sneakers and sports.
Hearst also started as a magazine company, with titles like Cosmopolitan and Elle, and now also owns 30 TV stations and stakes in ESPN, A&E and the History channel.
Earlier this year Ecko partnered with Spike Lee, and Lee is now an advisor on branded video projects.