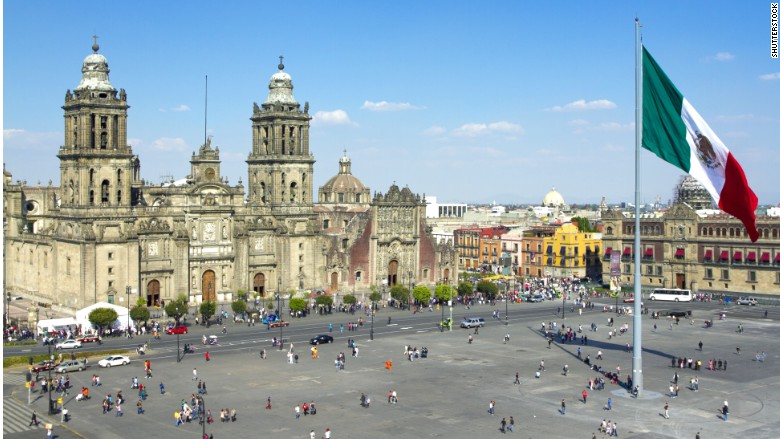 Latin America's power rankings are shifting this year and Mexico is emerging as a winner.
The Mexican economy isn't surging, but it's surviving -- and that's a success in a year of tough economic times for the region.
Low commodity prices, plunging currencies and a stock market sell off across emerging markets have hit Latin America particularly hard this year.
But Mexico's economy is growing, unemployment is falling and its debt was upgraded earlier this year.
That's exactly the opposite situation in Brazil, which had been the region's biggest success story until recently. Brazil's economic size, performance and potential surpassed all others in the region. But now its economy is in recession, its debt has been downgraded to junk status and the future outlook appears dim.
"Every problem and every headwind that you think of with Brazil, the reverse is happening in Mexico," says Neil Shearing, chief emerging market economist at Capital Economics.
Related: Brazil falls deep into recession
Mexico on pace to be region's best performer
Shearing and other experts project Mexico's economy will grow about 2.5% this year, ranking among the top performers. Some project Mexico to be the best performer next year.
By contrast, Brazil's economy is expected to shrink 3.3% this year, according to Bank of America (BAC)'s forecast. Experts say its recession will likely extend into next year.
Stocks are doing a little better in Mexico. Its stock market index, IPC, is barely positive so far this year. But Brazil's Bovespa is down nearly 8% over the same time.
Just as Brazil's worst problems -- such as the Petrobras scandal -- are self-inflicted, some of Mexico's economic resiliency are self-made too, economists argue.
Brazil is still Latin America's biggest economy, and Mexico is the second largest. But that gap is steadily narrowing and Mexico has many things going in its favor at the moment to make it Latin America's best economy.
Related: Brazil's economy is a mess
Jobs vs. job-related protests
Mexico is hiring. Its unemployment rate is 4.3% and has been moving downward this year. More importantly, the job market's success points partially towards reforms made a few years ago.
Mexico's President, Enrique Pena Nieto helped pass a wide-sweeping bill through Mexico's Congress (when he was president-elect) in 2012 that reformed minimum wage, women's worker rights and labor union transparency.
Pena Nieto has also passed major reforms to open some of the country's oil fields to foreign investment and break up Mexican business monopolies.
"They changed the constitution, they pushed forward," Vladimir Werning, head of Latin America research for J.P. Morgan, said of Mexico on Tuesday at the Council of the Americas.
Meanwhile, Brazil's recession-ridden job market is losing jobs: unemployment is 7.5% and experts say it's possible unemployment could reach double digit digits by next year.
Jobless Brazilians are protesting in the streets, demanding a better economy and calling for president Dilma Rousseff's impeachment.
Related: After China and Greece, the next domino to fall: Latin America
Friend of America vs. Friend of China
Mexico's economy is closely aligned with the U.S. economy -- they're major trade partners. And Brazil has dramatically increased its trade ties with China over the past decade.
As China's economy slows down, it's weighed on Brazil's growth potential. Likewise, as the U.S. economy continues its economic recovery from the Great Recession, Mexico benefits too, says Axel Christensen, BlackRock's chief investment strategist for Latin America.
Mexico has a growing manufacturing sector, particularly in autos, and it ships lots cars to the United States. Brazil's economic growth reflects the infrastructure-fueled growth in the Chinese economy. Brazil ships commodities like oil, iron ore and sugar to China to support its economic growth.
Related: China's chess move against the U.S.: Latin America
No time for a fiesta
Mexico may be the top economic performer in Latin America, but it's not free of problems. Major questions remain unanswered on immigration, drug trafficking and the massacre of dozens of Mexican students last year.
Investors have been taking out cash from both Brazil and Mexico. In fact, more funds have flowed out of Mexico, according to data from EPFR Global, a fund flow tracking company.
Still, Mexico's economy appears to be pushing Brazil off center stage in Latin America.
"Now might be its time," says Shearing.