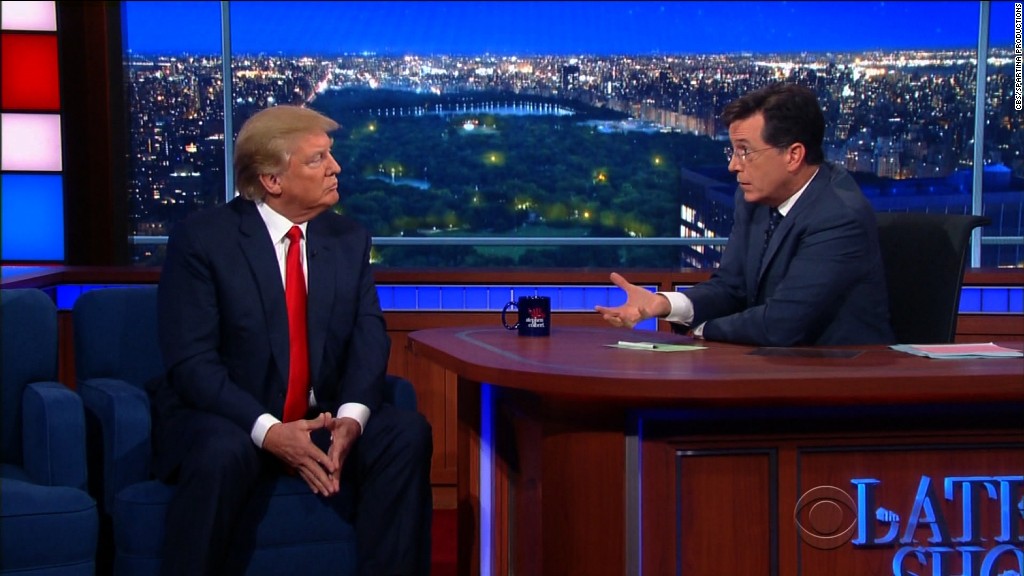 Trump's appearance on Stephen Colbert's "Late Show" Tuesday night gave the show its best viewership since its debut on September 8.
Colbert's sit down with the outspoken presidential candidate brought in 4.6 million viewers. That was the biggest "Late Show" audience since the 6.6 million that watched on Colbert's opening night.
This number crushed competition Tuesday night including Colbert's biggest rival Jimmy Fallon and "The Tonight Show," which pulled in 3.3 million viewers.
Fallon's guests on Tuesday were Anne Hathaway and Anthony Anderson. Fallon also premiered a new digital original, "Jimpire," a spoof of the popular Fox hit show "Empire."
In terms of the prized advertising demographic of viewers aged 18 to 49 years old, Colbert tied Fallon 1.0 to 1.0.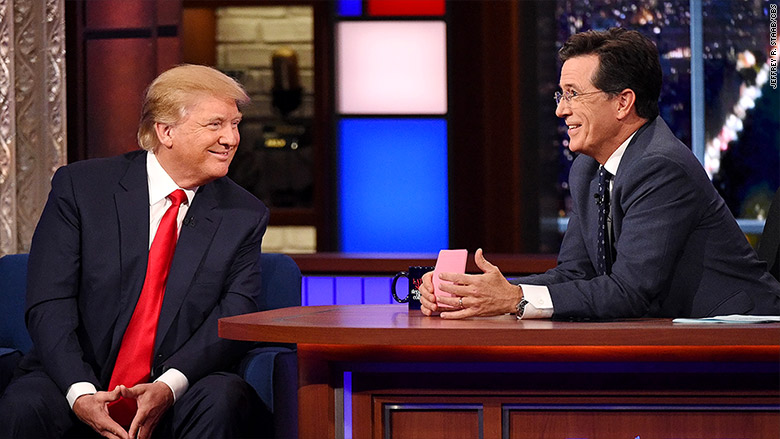 Related: Donald Trump gives Jimmy Fallon a big win over Colbert
Colbert's Trump boost comes a little over a week after Fallon saw a "Trump bump" of his own. Trump's appearance on September 11 helped Fallon beat Colbert bringing in an impressive 4.5 million viewers.
Trump and Colbert had a spirited conversation Tuesday night that touched on topics like Trump's plans for immigration and his thoughts on the Iran nuclear deal.
Colbert served up what he called a "big fat meatball" of a question, asking Trump, "Barack Obama, born in the United States?"
Trump dodged the question saying, "I don't talk about it anymore," before moving on to other issues.
The third competitor in late night, Jimmy Kimmel, came in behind Fallon and Colbert on Tuesday with 2.5 million viewers.