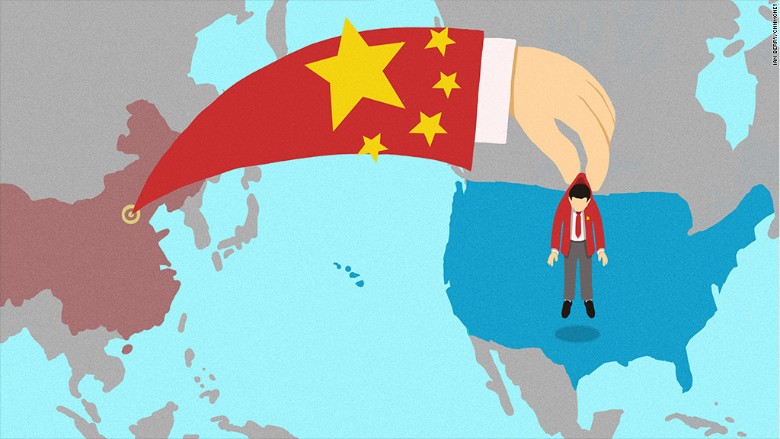 China has a message for its fugitives: You can run, but you can't hide.
Over the past year, China has launched campaigns dubbed "Operation Foxhunt" and "Operation Skynet," aimed at returning suspected criminals from abroad to stand trial at home.
It's all part of a massive anti-corruption crackdown orchestrated by President Xi Jinping that has netted government officials and company executives. But now, the campaign has stretched to the United States.
Cooperation on this issue is likely on Xi's agenda when he meets President Obama in Washington this week during his first official state visit. While China has been vocal in asking the U.S. for help capturing and returning the fugitives, Washington has largely stayed silent -- though it did confirm earlier this year it had received a list of priority targets from China.
Related: China's anti-corruption crackdown reaches U.S.
Still, there is evidence that the U.S. has been cooperating with China. On Thursday, Beijing announced that Kuang Wanfang, a Chinese national who had been convicted on fraud and money laundering charges in the U.S., had been sent back to China.
Kuang, her husband, and two other Chinese nationals were sentenced in the U.S. six years ago after trying to defraud Bank of China of nearly $500 million, according to a 2009 press release from the U.S. Department of Justice.
Last week, the U.S. also repatriated Yang Jinjun, who had appeared on a "most wanted" list released by Beijing in March. The list included photos and identification numbers of former local government officials, police officers, accountants and more.
The fugitives are accused of economic crimes including bribery, embezzlement, money laundering, contract fraud and issuing false tax receipts, according to details released by Chinese authorities. Sixty-six of them are believed to be hiding in the U.S. and Canada.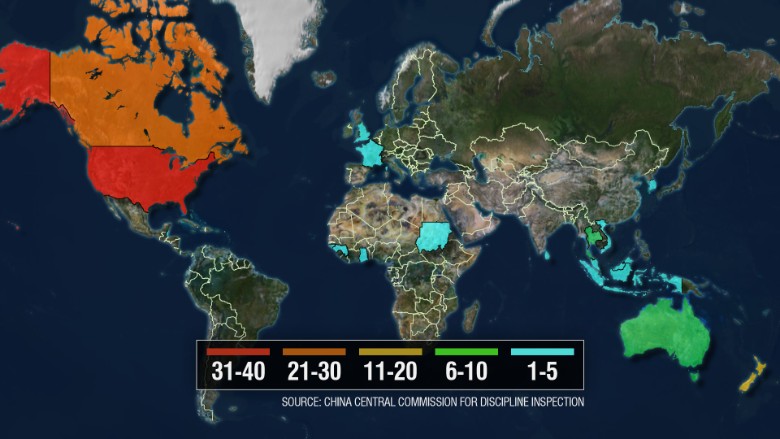 Yang's repatriation shows that "China is getting more international support and assistance on our efforts to combat corruption, pursue fugitives and recover illicit assets overseas ... and lays solid foundation for further bilateral cooperation," said Hong Lei, a spokesman for China's Ministry of Foreign Affairs.
"We will hold all the corrupted accountable no matter how far and how long they flee," he said.
Yang, a former manager of Minghe Group in Wenzhou, fled to the U.S. in 2001 and is suspected of corruption and bribery, according to the Chinese government.
Earlier this year, Shilan Zhao, the ex-wife of a former Chinese official, was arrested in Washington state on charges of immigration fraud and money laundering, according to the U.S. Department of Justice. Zhao and her ex-husband, Jianjun Qiao, were charged with fraudulently obtaining visas through a popular immigrant investor program known as EB-5.
Related: Xi goes to Washington: 4 problems for the U.S. and China
The Department of Justice also claimed that the couple bought property in the U.S. with money laundered through a massive grain storage facility in China, where Qiao served as director for 13 years. Zhao is schedule to stand trial April 2016, while Qiao remains at large, and is still being sought by U.S. authorities.
While the U.S. does not have an extradition treaty with China, the State Department will still return fugitives to China under certain circumstances.
"We must be satisfied that an individual extradited from the United States to another country would receive a fair trial and not be subject to torture or other forms of mistreatment in that country," a department spokeswoman said in March.
Related: China releases 'most wanted' list of economic fugitives
The New York Times has also reported that businessman Ling Wancheng, believed to be in the U.S., is on the list of targets. Ling is the brother of Ling Jihua, a former top Chinese official and one of the most high-profile individuals to be caught so far in Xi's anti-corruption drive.
Other countries, including Cambodia and Singapore, have also cooperated with China and returned fugitives. Chinese state media reported in June that 680 fugitives suspected of economic crimes were repatriated in 2014. More than 100 of those had been at large for more than a decade.