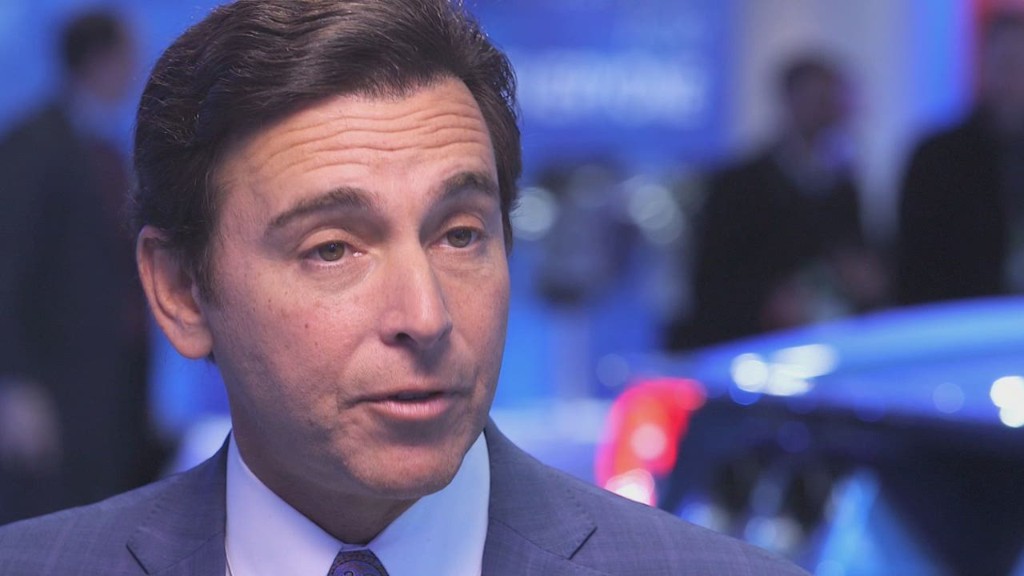 Ford is following up on its aluminum F-150 pickup with an aluminum-bodied Super Duty pick-up.
The Super Duty isn't just a beefed up version of the F-150. It's an entirely different truck designed by a different team of engineers from the more mainstream F-150. Its designed for serious work. For instance, almost three-quarters of the electrical and telephone utility trucks used in America are Super Duty trucks, according to Ford (F). They're also often modified for use as ambulances and other emergency vehicles.
Like the recently redesigned F-150, the Super Duty has a body made from "military grade" aluminum alloy. The weight savings are less than in the F-150, though. Where the F-150 saves 700 pounds through the use of aluminum, the Super Duty saves about half that much.
The new truck also has a number of high-tech features, like a 360-degree camera system that allows the driver to see the truck as if from above. Images from a number of downward-facing wide-angle cameras around the outside of the truck are combined using computer software to create an artificial "aerial" image of the truck and its surroundings. It makes maneuvering and backing up in tight spaces easier. A feature that's become common on luxury cars, this is the first time it's been available on a heavy-duty truck, according to Ford.
It will also be available with a remote-release tailgate so the driver won't have to get out and walk around to the back to open the tailgate.
The new Super Duty also offers an assist feature that automatically steers the truck so that a trailer will go where the driver wants it to go. As the truck backs up, the driver watches the trailer and "steers" with a dashboard knob rather than the steering wheel. The truck's front wheels move on their own, steering the truck so that the trailer takes the desired path.
The new truck will be available with a number of different engines, all much bigger than those offered in the F-150. They include a 6.2-liter V8, a 6.8-liter V10, and and a 6.8-liter V8 diesel engine. Ford is promising better towing and hauling capabilities than the current truck.
Currently, the Ford Super Duty line, which includes the F-250, F-350, F-450 and F-550, makes up about 43% of heavy-duty pickups sold in America. Pricing for the new truck, which will be built in Kentucky and go on sale late next year, has not been announced yet.