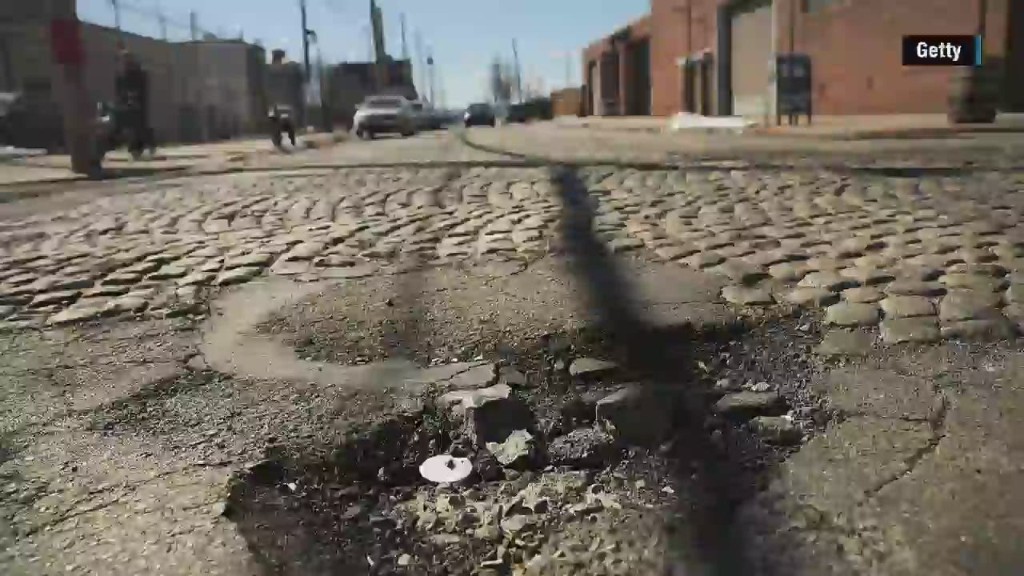 China's economic slowdown and cheap oil are killing more American jobs.
This time at a giant in U.S. business. Caterpillar (CAT) announced on Thursday that job cuts could exceed 10,000 through 2018.
Up to 5,000 employees will lose jobs between now and the end of 2016.
The moves are aimed at cutting $1.5 billion in annual costs as the global growth outlook continues to darken.
Caterpillar is heavily exposed to the turbulence ripping through the world's economy. Nearly 10% of the company's revenue is generated in China, where the country's economy is shifting from infrastructure-led growth to being more consumer driven.
The shift has led to a dramatic economic slowdown and many anticipate China will continue to stumble as its economy goes through a difficult transition.
China's growing pains have rippled through many countries with which it has deep trade ties.
As demand for raw materials dropped, it's sent prices careening for everything from crude oil and copper to iron ore. That's led mining and oil exploration companies to cut back on spending on the heavy equipment that Caterpillar produces.
"We are facing a convergence of challenging marketplace conditions in key regions and industry sectors -- namely in mining and energy," Caterpillar CEO Doug Oberhelman said in a statement.
Related: North Dakota hit by falling oil prices
Unprecedented sales slump for Caterpillar
Given those challenges, Caterpillar dimmed its 2015 sales targets and warned next year's revenue could decline by 5%. That would mark the first time in Caterpillar's 90-year history that sales have declined for four straight years.
Caterpillar said the 10,000 job cut estimate includes the potential closing of more than 20 unspecified manufacturing facilities. The company will offer a voluntary retirement enhancement program for qualifying employees that will be completed by the end of 2015.
Caterpillar expects pre-tax costs of about $2 billion tied to the layoffs and consolidating manufacturing facilities.
It's been a particularly rough stretch for Caterpillar. Earlier this week the company said retail sales of its machinery slumped 11% between June and August. The company felt the greatest pressure in China and Latin America.
Caterpillar also announced on Thursday its plans to build a new headquarters in its longtime home city of Peoria, Illinois are on hold.
"Our vision and plans for a new headquarters in downtown Peoria still stand, although given current conditions we can't say when the project will begin," Oberhelman wrote in an Op-Ed in the Peoria Journal Star.
Related: Oil crash cut my pay and killed over 86,000 jobs
Job cuts mount
All of this represents the latest employment fallout related to falling commodity prices. U.S. companies announced more than 86,000 job cuts directly attributed to falling oil prices since June 2014, according to Challenger, Gray & Christmas.
One Caterpillar employee CNNMoney reached out to was worried for his job.
Jake, who declined to give his last name when CNNMoney reached out to him, works as an engineer at a subsidiary owned by Progress Rail Services, a builder of diesel-electric trains that Caterpillar acquired in 2006.
Many of the employees at this division are contractors, all of whom were immediately concerned about their jobs.
"No one really knows the outcome of how things are going to play out," said Jake, who is 30 years old and has a wife and two children.
Related: China lost its economic swagger right before U.S. summit
Mining stocks crumble
Caterpillar stock tumbled 6% on the news. It's lost more than one-third of its value over the past year.
The gloomy Caterpillar news sparked selling in other mining, construction and farm equipment stocks, including Joy Global (JOY), Deere (DE), AGCO (AGCO) and CNH Industrial (CNHI).