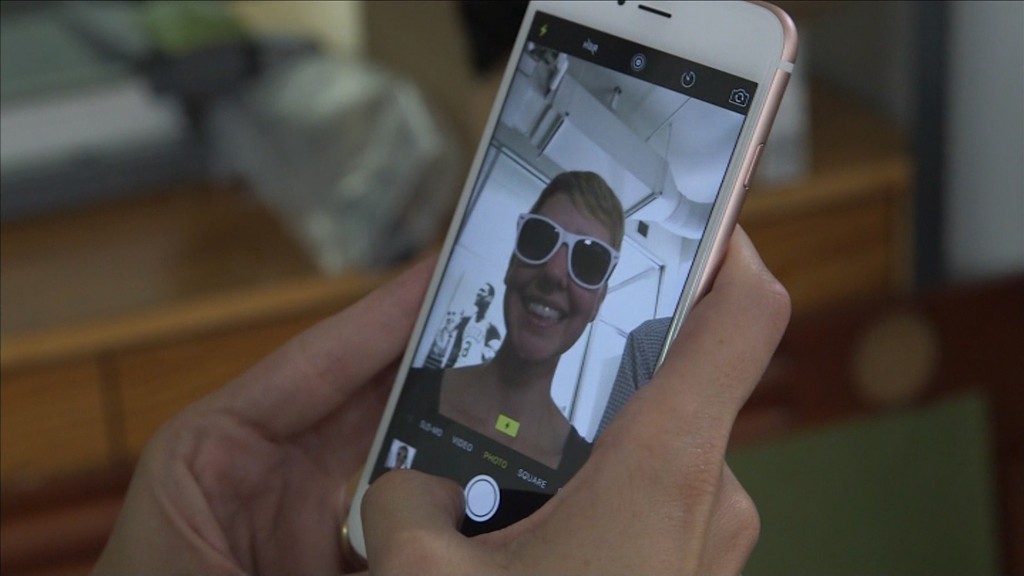 Rejoice, Apple fans! The new iPhone is here.
The iPhone 6S and iPhone 6S Plus hit stores Friday, with Apple fans around the world camping out in line to become some of the first owners of the new devices.
In Hong Kong, fans were out in force at Apple's (AAPL) massive store in Causeway Bay, one of the city's prime shopping districts.
At the head of the line was Black Chan, who shelled out for two 6S phones: one with 64GB of storage, and a second with 128GB.
"I am a big Apple fan, super Apple fan," he said. "I feel so happy and so excited."
Chan said he would keep one phone for himself, and try to resell the second for a profit of around $250. The most likely buyer is one of the iPhone "flippers" who brazenly selling their wares outside official Apple stores in Hong Kong for 20% to 30% more than the official retail price.
Related: This is the perfect smartphone
In London, a long line of Apple fans were welcomed by jubilant store greeters who shouted and clapped as customers came in to buy their new phones.
Harry Richar, a 19-year-old standing in line with a friend, said he waited for 18 hours to buy two iPhones, which he planned to sell.
"I already have the buyers lined up," he said, noting that this was the fifth time he's lined up for a new iPhone.
Slightly further back in the line was 20-year-old student Hira Moiz. Earlier in the month she had used Apple's online system to book an early morning time slot to buy her two new phones. She had been waiting for only 30 minutes.
"I haven't done this before," she said smiling. "This is fun. This is obviously fun."
But others simply poked fun at the people waiting in lines.
"Only in a mad world do people queue for an iPhone while looking at queues of people queuing for an iPhone on their iPhones," tweeted the London-based Andrew Bloch.
Related: How many hours do you have to work to afford an iPhone?
In New York, lines at the flagship 5th Avenue Apple Store were shorter than in previous years, but there were still more than 100 people lined up outside at 7:30 Friday morning.
The first two customers to pick up their pre-orders were both grad school students who lined up at 2 a.m.
Justina Siciunaite, a 25-year-old from Lithuania, bought an iPhone 6S and an iPhone 6S Plus. She said she only buys the 'S' models because she wants the slightly better version. Siciunaite told CNNMoney that she'll use the smaller 6S, which she got in rose gold and with 64 GB of storage.
Lin Haoyu, a 22-year-old from China, bought an iPhone 6S with 64 GB of storage too, but in gold. Friday was the first time he had stood in line to pick up his phone. The computer science student said he has owned every single generation of the iPhone starting with the iPhone 4.
Neither Apple fan signed up for the company's new iPhone Upgrade Program.
"I don't want to give it back," said Lin. "I'm an app developer, so maybe I'll need every generation to test the app."
The first customer who didn't have a pre-order pickup was a Queens, New York resident, Jamie Gonzales.
Gonzales had been waiting in line for 16 days, leaving only for a few hours to shower or change. His friend stood in line for him during those breaks.
The incentive for the long wait was a free rose gold 128 GB iPhone 6S, paid for by the company who sponsored him to wait in line.
Gonzales told CNNMoney that he didn't know there was a pre-order process. He was upset that he wasn't first, and that next time, he would pre-order first and wait 77 days before the launch if he had to.
"Mark my words," said Gonzales.
Related: iPhone 6S review -- This is a lively, speedy upgrade
The new iPhone 6S and iPhone 6S Plus feature a different kind of touch screen that can sense how long and hard someone is pressing, a stronger aluminum body, faster and more efficient processor, higher resolution cameras, and a new GIF-like photo function.
There is more pressure on Apple with each new iPhone iteration. Newer products and features like the Apple Watch and Apple Music just aren't big enough to move its financial needle.
Still, customers are eager to get their hands on the latest. Apple says that pre-order numbers have been "very strong around the world."
"We are on pace to beat last year's 10 million unit first-weekend record when the new iPhones go on sale September 25," the company said earlier this month.
Related: Want an iPhone 6S? Shop around first
-- CNN's Vivian Kam contributed to this report.