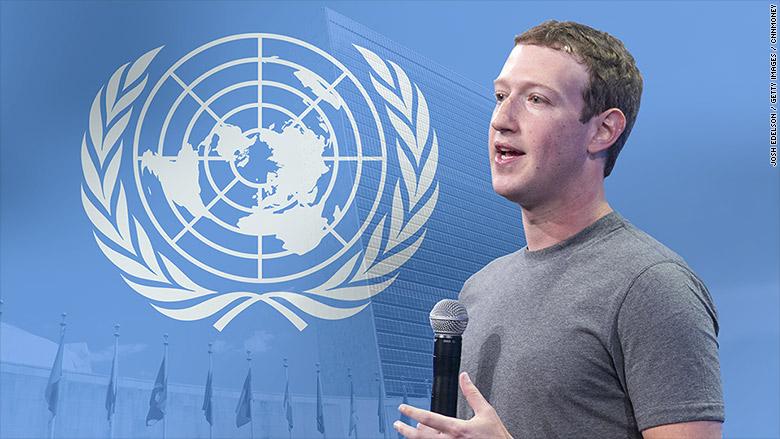 The key to ending extreme poverty? Internet access, according to Mark Zuckerberg.
The Facebook CEO called for greater global Internet access on Saturday during a speech at the United Nations.
"When communities are connected, we can lift them out of poverty," he said. "We can and must do more."
Zuckerberg said Facebook (FB) would be working with the U.N. to help bring Internet access to refugee camps -- especially timely given Europe's current crisis.
Zuckerberg's U.S. partnership is part of the U.N.'s effort to eliminate extreme poverty by 2030 -- a goal that was set Friday.
However, the goal to expand Internet access isn't new for Zuckerberg.
In August 2013, he launched Internet.org, with the mission of connecting the 5 billion people without internet access.
"Connecting the world is one of the fundamental challenges of our generation," Zuckerberg said Saturday.
Zuckerberg's speech about the crucial role that connectivity plays in reaching the U.N.'s sustainable development goals was directed at CEOs, heads of state and leaders of civil society organizations.
Zuckerberg also posted a Facebook message before his speech about his goal to make universal Internet access a "global priority."
In the post, Zuckerberg also announced a call to action that he was supporting alongside socially conscious groups and figures such as the Bill & Melinda Gates Foundation, the ONE campaign and Bono.
"We have a simple message," Zuckerberg wrote. "By giving people access to the tools, knowledge and opportunities of the Internet, we can give a voice to the voiceless and power to the powerless."
The Facebook CEO was scheduled to give two speeches at the United Nations on Saturday. His speeches were directed to the U.N.'s sustainable development conference and private sector forum during its 70th annual General Assembly.
Zuckerberg is expected to host Indian Prime Minister Narendra Modi on Sunday for a town hall Q&A session at Facebook's headquarters.