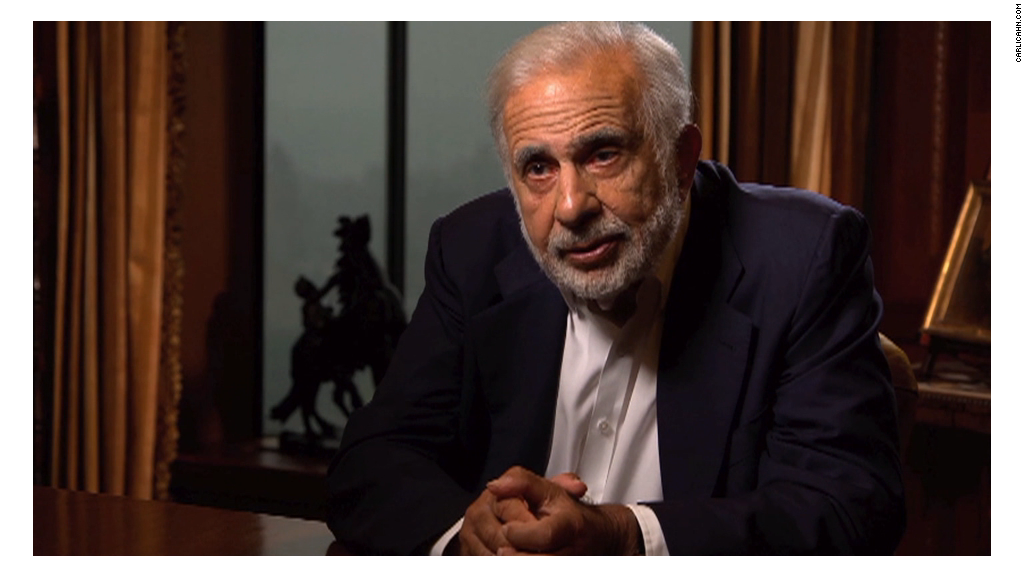 Hedge fund manager Carl Icahn is really nervous about the stock market -- so much so that he released a gloomy trailer for a new video that will be available on his website just after midnight on Tuesday.
The video is titled "Danger Ahead: A Message from Carl Icahn." Based on the 101-second preview, it appears that Icahn will air his significant concerns about low interest rates.
The trailer shows a sort of "greatest hits" of Icahn's tweets and television appearances on Bloomberg and CNBC over the past few months.
You hear Icahn talk about how he thinks "this market keeps going up and up with zero interest rates ... that's what's really pushing it," and that the high yield bond market is "in a major bubble."
Worried about bubbles even as he invests in Apple and Lyft
When asked if current conditions are setting up the market for something that would be problematic, Icahn said "it's not will it happen, it's when it will happen."
And Icahn also said in response to a question about whether stocks are due for a "dramatic pullback" that he's "worried about the market and the economy and the dangerous spot that we're in."
Icahn told CNBC in an interview Monday morning that he's "more hedged now" than he's been in years.
He also expressed concerns about a "catastrophe" that could be coming because the Federal Reserve has left interest rates near zero since December 2008.
Related: Icahn invests $100 million in Lyft
Icahn has grown more bearish about the markets over the past couple of months, but his Icahn Enterprises (IEP) investment firm still owns shares of many well-known stocks, including Apple (AAPL), PayPal (PYPL), eBay (EBAY), Hertz (HTZ)and Chesapeake Energy. (CHK)
He also made a recent investment in privately held Lyft, the ridesharing rival of Uber. That's a bit surprising in light of his bubble comments since many experts feel that "unicorn" tech startups like Uber and Lyft may be even more dangerously overvalued than publicly traded tech stocks.
Who is Carl Icahn?
Icahn made a name for himself as a corporate raider in the 1980s. He bought airline TWA in 1985 and unsuccessfully tried to take over U.S. Steel (X) as well.
During the past decade, Icahn has tried to soften the image as a ruthless takeover artist and is billing himself as a so-called "shareholder activist" who is looking out for the best interests of all investors.
He has continued to buy positions in firms that he thinks are in need of a shakeup or new strategy and has pushed for change at Netflix (NFLX) and newspaper company Gannett (GCI) to media firms Lionsgate (LGF) and Time Warner (TWX), the owner of CNNMoney.
Icahn has also occasionally picked fights on TV and Twitter with fellow hedge fund managers when he disagrees with their position on a stock.
Related: Icahn thinks Apple is worth ... $1.4 trillion
He's done that most recently with Bill Ackman over nutritional supplement maker Herbalife (HLF) and Jim Chanos over natural gas exporter Cheniere (LNG). Icahn is bullish on both stocks while Ackman and Chanos are shorting or betting that stock prices will fall for Herbalife and Cheniere.
So why is Icahn taking time from managing his own money to make what amounts to a public service announcement about the risks in the broader stock market?
He brought up his humble beginnings, a story he's often told to show that he's just like middle class Americans.
"I want to speak out now because, I know this may sound corny, but i grew up in the streets of Queens. i love this country and i feel so strongly about the dysfunction that is going on both in Washington and the boardrooms of Corporate America," Icahn said in the trailer for "Danger Ahead."
It remains to be seen if Icahn offers any fixes for the possible market problems or if he is just going to issue more doom and gloom warnings.
Trump wants Icahn to serve his country
But at least one presidential candidate has said he'd love to have Icahn in his administration.
Republican presidential frontrunner Donald Trump has said he'd want to put Icahn in charge of negotiating trade deals with China and Japan.
Trump also suggested earlier this summer that he'd pick Icahn to be his Treasury Secretary.
Related: This money manager is not a fan of Carl Icahn
Icahn initially tweeted that he was not interested but then appeared to change his mind, tweeting again that he would accept the offer after watching Trump's first presidential debate in August.
However, Icahn said at a Lyft press conference earlier this month that he actually has no interest in politics.
"I have my day job," he told reporters.
And while nobody will confuse the "Danger Ahead" trailer for the action-packed preview of "Star Wars: Episode VII -- The Force Awakens," it looks like making movies is now one of Icahn's day jobs too.